{"id":8960060301,"title":"Can Am Maverick ECU Reflash","handle":"can-am-maverick-ecu-reflash","description":"\u003cul\u003e\n\u003cli\u003eRev Limiters set at 8700 RPMs\u003c\/li\u003e\n\u003cli\u003eSpeed \/ TQ limits removed in Low Gear\u003c\/li\u003e\n\u003cli\u003eNow Low Gear revs to 8700 (7200 stock)\u003c\/li\u003e\n\u003cli\u003eSpeed \/ TQ limits removed in High Gear\u003c\/li\u003e\n\u003cli\u003eNow High Gear revs to 8700 (8000 stock)\u003c\/li\u003e\n\u003cli\u003eEngine Speed TQ Limiters removed ("Shaft Saver Delete\")\u003c\/li\u003e\n\u003cli\u003eV-Max Removed (Removed vehicle speed limiters)\u003c\/li\u003e\n\u003cli\u003eImproved throttle response in all modes (E-Gas settings improved)\u003c\/li\u003e\n\u003cli\u003e100% throttle in all Modes (If desired)\u003c\/li\u003e\n\u003cli\u003eFans set to activate at 165°\u003c\/li\u003e\n\u003cli\u003eRace start - no need to press brake to start vehicle\u003c\/li\u003e\n\u003cli\u003eLeft foot brake enabled - allows the use of the brake and accelerator pedal at the same time\u003c\/li\u003e\n\u003c\/ul\u003e\n\u003c!-- split --\u003e \u003cmeta charset=\"utf-8\"\u003e\n\u003cp\u003eOur ECU reflash is a performance upgrade item designed to enhance your riding experience. Besides the huge horsepower gains we realize through timing, fueling, torque limit modifications and other ECU parameters, the drivability of the vehicle is greatly enhanced.\u003c\/p\u003e\n[TABS]\n\u003ch5\u003eTUNING\u003c\/h5\u003e\n\u003ch6\u003eStages\u003c\/h6\u003e\n\u003cul\u003e\n\u003cli\u003e\n\u003cb\u003eStage 1\u003c\/b\u003e Stock Exhaust - 91 Octane\u003c\/li\u003e\n\u003cli\u003e\n\u003cb\u003eStage 2 EX\u003c\/b\u003e Aftermarket Exhaust with Stock Cat - 91 Octane\u003c\/li\u003e\n\u003cli\u003e\n\u003cb\u003eStage 2 CBP\u003c\/b\u003e Stock Exhaust with Cat Bypass - 91 Octane\u003c\/li\u003e\n\u003cli\u003e\n\u003cb\u003eStage 3\u003c\/b\u003e Aftermarket Exhaust with Cat Bypass - 91 Octane\u003c\/li\u003e\n\u003cli\u003e\n\u003cb\u003eStage 4\u003c\/b\u003e Aftermarket Exhaust with Cat Bypass and Intake - 91 Octane\u003c\/li\u003e\n\u003cli\u003e\n\u003cb\u003eStage 4R\u003c\/b\u003e Aftermarket Exhaust with Cat Bypass and Intake - 100 Octane\u003c\/li\u003e\n\u003c\/ul\u003e\n\u003ch6\u003eProgramming\u003c\/h6\u003e\n\u003cul\u003e\n\u003cli\u003e\n\u003ca href=\"https:\/\/www.warrantykillerperformance.com\/pages\/servicing\"\u003eSend in\u003c\/a\u003e your ECU to get reflashed\u003c\/li\u003e\n\u003cli\u003ePurchase \u003ca href=\"https:\/\/www.warrantykillerperformance.com\/products\/can-am-maptuner-x\"\u003eMaptuner X\u003c\/a\u003e and reflash yourself\u003c\/li\u003e\n\u003c\/ul\u003e\n\u003ch5\u003eFITMENT\u003c\/h5\u003e\n\u003ch6\u003eCan-Am\u003c\/h6\u003e\n\u003cul\u003e\n\u003cli\u003eMaverick - All years \u0026amp; models\u003c\/li\u003e\n\u003c\/ul\u003e\n\u003ch5\u003eINCLUDES\u003c\/h5\u003e\n\u003ch6\u003eItem\u003c\/h6\u003e\n\u003col\u003e\n\u003cli\u003eECU Reflash - QTY 1\u003c\/li\u003e\n\u003c\/ol\u003e\n\u003ch5\u003eDETAILS\u003c\/h5\u003e\n\u003ch6\u003eShipping\u003c\/h6\u003e\n\u003cul\u003e\n\u003cli\u003e\n\u003cstrong\u003eUSPS Package:\u003c\/strong\u003e Priority Mail Small Flat Rate Box\u003c\/li\u003e\n\u003cli\u003e\n\u003cstrong\u003eBox Dimensions:\u003c\/strong\u003e 6x6x6\u003c\/li\u003e\n\u003cli\u003e\n\u003cstrong\u003eWeight:\u003c\/strong\u003e 3.0 lbs.\u003c\/li\u003e\n\u003c\/ul\u003e\n\u003ch5\u003eDOWNLOADS\u003c\/h5\u003e\n\u003ch6\u003eInstructions\u003c\/h6\u003e\n\u003cp\u003e\u003ci class=\"fa fa-file-pdf-o\"\u003e\u003c\/i\u003eNo Installation Guide Exists\u003c\/p\u003e\n[\/TABS]","published_at":"2017-01-30T15:51:00-06:00","created_at":"2017-01-31T10:36:38-06:00","vendor":"Warranty Killer Performance","type":"Tune","tags":["Els PW 296","Make_Can Am","Model_Maverick","Model_Maverick 1000","Parts_Tunes","Time 5 Days","Year_2013","Year_2014","Year_2015","Year_2016","Year_2017","Year_2018"],"price":48900,"price_min":48900,"price_max":64900,"available":true,"price_varies":true,"compare_at_price":null,"compare_at_price_min":0,"compare_at_price_max":0,"compare_at_price_varies":false,"variants":[{"id":32654029133,"title":"2013 \/ 1","option1":"2013","option2":"1","option3":null,"sku":"WKPT-CAMAVECUR-1","requires_shipping":true,"taxable":true,"featured_image":null,"available":true,"name":"Can Am Maverick ECU Reflash - 2013 \/ 1","public_title":"2013 \/ 1","options":["2013","1"],"price":48900,"weight":1361,"compare_at_price":null,"inventory_quantity":0,"inventory_management":"shopify","inventory_policy":"continue","barcode":"ECU-CAM-STG1"},{"id":32654457677,"title":"2013 \/ 2 EX","option1":"2013","option2":"2 EX","option3":null,"sku":"WKPT-CAMAVECUR-2","requires_shipping":true,"taxable":true,"featured_image":null,"available":true,"name":"Can Am Maverick ECU Reflash - 2013 \/ 2 EX","public_title":"2013 \/ 2 EX","options":["2013","2 EX"],"price":53900,"weight":1361,"compare_at_price":null,"inventory_quantity":0,"inventory_management":"shopify","inventory_policy":"continue","barcode":"ECU-CAM-STG2EX"},{"id":32654457741,"title":"2013 \/ 2 CBP","option1":"2013","option2":"2 CBP","option3":null,"sku":"WKPT-CAMAVECUR-3","requires_shipping":true,"taxable":true,"featured_image":null,"available":true,"name":"Can Am Maverick ECU Reflash - 2013 \/ 2 CBP","public_title":"2013 \/ 2 CBP","options":["2013","2 CBP"],"price":53900,"weight":1361,"compare_at_price":null,"inventory_quantity":0,"inventory_management":"shopify","inventory_policy":"continue","barcode":"ECU-CAM-STG2CBP"},{"id":32654457805,"title":"2013 \/ 3","option1":"2013","option2":"3","option3":null,"sku":"WKPT-CAMAVECUR-4","requires_shipping":true,"taxable":true,"featured_image":null,"available":true,"name":"Can Am Maverick ECU Reflash - 2013 \/ 3","public_title":"2013 \/ 3","options":["2013","3"],"price":56900,"weight":1361,"compare_at_price":null,"inventory_quantity":0,"inventory_management":"shopify","inventory_policy":"continue","barcode":"ECU-CAM-STG3"},{"id":32654457869,"title":"2013 \/ 4","option1":"2013","option2":"4","option3":null,"sku":"WKPT-CAMAVECUR-5","requires_shipping":true,"taxable":true,"featured_image":null,"available":true,"name":"Can Am Maverick ECU Reflash - 2013 \/ 4","public_title":"2013 \/ 4","options":["2013","4"],"price":59900,"weight":1361,"compare_at_price":null,"inventory_quantity":0,"inventory_management":"shopify","inventory_policy":"continue","barcode":"ECU-CAM-STG4"},{"id":32654457933,"title":"2013 \/ 4R","option1":"2013","option2":"4R","option3":null,"sku":"WKPT-CAMAVECUR-6","requires_shipping":true,"taxable":true,"featured_image":null,"available":true,"name":"Can Am Maverick ECU Reflash - 2013 \/ 4R","public_title":"2013 \/ 4R","options":["2013","4R"],"price":64900,"weight":1361,"compare_at_price":null,"inventory_quantity":0,"inventory_management":"shopify","inventory_policy":"continue","barcode":"ECU-CAM-STG4R"},{"id":32654458061,"title":"2014 \/ 1","option1":"2014","option2":"1","option3":null,"sku":"WKPT-CAMAVECUR-7","requires_shipping":true,"taxable":true,"featured_image":null,"available":true,"name":"Can Am Maverick ECU Reflash - 2014 \/ 1","public_title":"2014 \/ 1","options":["2014","1"],"price":48900,"weight":1361,"compare_at_price":null,"inventory_quantity":0,"inventory_management":"shopify","inventory_policy":"continue","barcode":"ECU-CAM-STG1"},{"id":32654458125,"title":"2014 \/ 2 EX","option1":"2014","option2":"2 EX","option3":null,"sku":"WKPT-CAMAVECUR-8","requires_shipping":true,"taxable":true,"featured_image":null,"available":true,"name":"Can Am Maverick ECU Reflash - 2014 \/ 2 EX","public_title":"2014 \/ 2 EX","options":["2014","2 EX"],"price":53900,"weight":1361,"compare_at_price":null,"inventory_quantity":0,"inventory_management":"shopify","inventory_policy":"continue","barcode":"ECU-CAM-STG2EX"},{"id":32654458189,"title":"2014 \/ 2 CBP","option1":"2014","option2":"2 CBP","option3":null,"sku":"WKPT-CAMAVECUR-9","requires_shipping":true,"taxable":true,"featured_image":null,"available":true,"name":"Can Am Maverick ECU Reflash - 2014 \/ 2 CBP","public_title":"2014 \/ 2 CBP","options":["2014","2 CBP"],"price":53900,"weight":1361,"compare_at_price":null,"inventory_quantity":0,"inventory_management":"shopify","inventory_policy":"continue","barcode":"ECU-CAM-STG2CBP"},{"id":32654458253,"title":"2014 \/ 3","option1":"2014","option2":"3","option3":null,"sku":"WKPT-CAMAVECUR-10","requires_shipping":true,"taxable":true,"featured_image":null,"available":true,"name":"Can Am Maverick ECU Reflash - 2014 \/ 3","public_title":"2014 \/ 3","options":["2014","3"],"price":56900,"weight":1361,"compare_at_price":null,"inventory_quantity":0,"inventory_management":"shopify","inventory_policy":"continue","barcode":"ECU-CAM-STG3"},{"id":32654458317,"title":"2014 \/ 4","option1":"2014","option2":"4","option3":null,"sku":"WKPT-CAMAVECUR-11","requires_shipping":true,"taxable":true,"featured_image":null,"available":true,"name":"Can Am Maverick ECU Reflash - 2014 \/ 4","public_title":"2014 \/ 4","options":["2014","4"],"price":59900,"weight":1361,"compare_at_price":null,"inventory_quantity":0,"inventory_management":"shopify","inventory_policy":"continue","barcode":"ECU-CAM-STG4"},{"id":32654458381,"title":"2014 \/ 4R","option1":"2014","option2":"4R","option3":null,"sku":"WKPT-CAMAVECUR-12","requires_shipping":true,"taxable":true,"featured_image":null,"available":true,"name":"Can Am Maverick ECU Reflash - 2014 \/ 4R","public_title":"2014 \/ 4R","options":["2014","4R"],"price":64900,"weight":1361,"compare_at_price":null,"inventory_quantity":0,"inventory_management":"shopify","inventory_policy":"continue","barcode":"ECU-CAM-STG4R"},{"id":32654458445,"title":"2015 \/ 1","option1":"2015","option2":"1","option3":null,"sku":"WKPT-CAMAVECUR-13","requires_shipping":true,"taxable":true,"featured_image":null,"available":true,"name":"Can Am Maverick ECU Reflash - 2015 \/ 1","public_title":"2015 \/ 1","options":["2015","1"],"price":48900,"weight":1361,"compare_at_price":null,"inventory_quantity":0,"inventory_management":"shopify","inventory_policy":"continue","barcode":"ECU-CAM-STG1"},{"id":32654458509,"title":"2015 \/ 2 EX","option1":"2015","option2":"2 EX","option3":null,"sku":"WKPT-CAMAVECUR-14","requires_shipping":true,"taxable":true,"featured_image":null,"available":true,"name":"Can Am Maverick ECU Reflash - 2015 \/ 2 EX","public_title":"2015 \/ 2 EX","options":["2015","2 EX"],"price":53900,"weight":1361,"compare_at_price":null,"inventory_quantity":0,"inventory_management":"shopify","inventory_policy":"continue","barcode":"ECU-CAM-STG2EX"},{"id":32654458573,"title":"2015 \/ 2 CBP","option1":"2015","option2":"2 CBP","option3":null,"sku":"WKPT-CAMAVECUR-15","requires_shipping":true,"taxable":true,"featured_image":null,"available":true,"name":"Can Am Maverick ECU Reflash - 2015 \/ 2 CBP","public_title":"2015 \/ 2 CBP","options":["2015","2 CBP"],"price":53900,"weight":1361,"compare_at_price":null,"inventory_quantity":0,"inventory_management":"shopify","inventory_policy":"continue","barcode":"ECU-CAM-STG2CBP"},{"id":32654458637,"title":"2015 \/ 3","option1":"2015","option2":"3","option3":null,"sku":"WKPT-CAMAVECUR-16","requires_shipping":true,"taxable":true,"featured_image":null,"available":true,"name":"Can Am Maverick ECU Reflash - 2015 \/ 3","public_title":"2015 \/ 3","options":["2015","3"],"price":56900,"weight":1361,"compare_at_price":null,"inventory_quantity":0,"inventory_management":"shopify","inventory_policy":"continue","barcode":"ECU-CAM-STG3"},{"id":32654458701,"title":"2015 \/ 4","option1":"2015","option2":"4","option3":null,"sku":"WKPT-CAMAVECUR-17","requires_shipping":true,"taxable":true,"featured_image":null,"available":true,"name":"Can Am Maverick ECU Reflash - 2015 \/ 4","public_title":"2015 \/ 4","options":["2015","4"],"price":59900,"weight":1361,"compare_at_price":null,"inventory_quantity":0,"inventory_management":"shopify","inventory_policy":"continue","barcode":"ECU-CAM-STG4"},{"id":32654458765,"title":"2015 \/ 4R","option1":"2015","option2":"4R","option3":null,"sku":"WKPT-CAMAVECUR-18","requires_shipping":true,"taxable":true,"featured_image":null,"available":true,"name":"Can Am Maverick ECU Reflash - 2015 \/ 4R","public_title":"2015 \/ 4R","options":["2015","4R"],"price":64900,"weight":1361,"compare_at_price":null,"inventory_quantity":0,"inventory_management":"shopify","inventory_policy":"continue","barcode":"ECU-CAM-STG4R"},{"id":32654458829,"title":"2016 \/ 1","option1":"2016","option2":"1","option3":null,"sku":"WKPT-CAMAVECUR-19","requires_shipping":true,"taxable":true,"featured_image":null,"available":true,"name":"Can Am Maverick ECU Reflash - 2016 \/ 1","public_title":"2016 \/ 1","options":["2016","1"],"price":48900,"weight":1361,"compare_at_price":null,"inventory_quantity":0,"inventory_management":"shopify","inventory_policy":"continue","barcode":"ECU-CAM-STG1"},{"id":32654458957,"title":"2016 \/ 2 EX","option1":"2016","option2":"2 EX","option3":null,"sku":"WKPT-CAMAVECUR-20","requires_shipping":true,"taxable":true,"featured_image":null,"available":true,"name":"Can Am Maverick ECU Reflash - 2016 \/ 2 EX","public_title":"2016 \/ 2 EX","options":["2016","2 EX"],"price":53900,"weight":1361,"compare_at_price":null,"inventory_quantity":0,"inventory_management":"shopify","inventory_policy":"continue","barcode":"ECU-CAM-STG2EX"},{"id":32654459021,"title":"2016 \/ 2 CBP","option1":"2016","option2":"2 CBP","option3":null,"sku":"WKPT-CAMAVECUR-21","requires_shipping":true,"taxable":true,"featured_image":null,"available":true,"name":"Can Am Maverick ECU Reflash - 2016 \/ 2 CBP","public_title":"2016 \/ 2 CBP","options":["2016","2 CBP"],"price":53900,"weight":1361,"compare_at_price":null,"inventory_quantity":0,"inventory_management":"shopify","inventory_policy":"continue","barcode":"ECU-CAM-STG2CBP"},{"id":32654459085,"title":"2016 \/ 3","option1":"2016","option2":"3","option3":null,"sku":"WKPT-CAMAVECUR-22","requires_shipping":true,"taxable":true,"featured_image":null,"available":true,"name":"Can Am Maverick ECU Reflash - 2016 \/ 3","public_title":"2016 \/ 3","options":["2016","3"],"price":56900,"weight":1361,"compare_at_price":null,"inventory_quantity":0,"inventory_management":"shopify","inventory_policy":"continue","barcode":"ECU-CAM-STG3"},{"id":32654459149,"title":"2016 \/ 4","option1":"2016","option2":"4","option3":null,"sku":"WKPT-CAMAVECUR-23","requires_shipping":true,"taxable":true,"featured_image":null,"available":true,"name":"Can Am Maverick ECU Reflash - 2016 \/ 4","public_title":"2016 \/ 4","options":["2016","4"],"price":59900,"weight":1361,"compare_at_price":null,"inventory_quantity":0,"inventory_management":"shopify","inventory_policy":"continue","barcode":"ECU-CAM-STG4"},{"id":32654459213,"title":"2016 \/ 4R","option1":"2016","option2":"4R","option3":null,"sku":"WKPT-CAMAVECUR-24","requires_shipping":true,"taxable":true,"featured_image":null,"available":true,"name":"Can Am Maverick ECU Reflash - 2016 \/ 4R","public_title":"2016 \/ 4R","options":["2016","4R"],"price":64900,"weight":1361,"compare_at_price":null,"inventory_quantity":0,"inventory_management":"shopify","inventory_policy":"continue","barcode":"ECU-CAM-STG4R"},{"id":32654459277,"title":"2017 \/ 1","option1":"2017","option2":"1","option3":null,"sku":"WKPT-CAMAVECUR-25","requires_shipping":true,"taxable":true,"featured_image":null,"available":true,"name":"Can Am Maverick ECU Reflash - 2017 \/ 1","public_title":"2017 \/ 1","options":["2017","1"],"price":48900,"weight":1361,"compare_at_price":null,"inventory_quantity":0,"inventory_management":"shopify","inventory_policy":"continue","barcode":"ECU-CAM-STG1"},{"id":32654459341,"title":"2017 \/ 2 EX","option1":"2017","option2":"2 EX","option3":null,"sku":"WKPT-CAMAVECUR-26","requires_shipping":true,"taxable":true,"featured_image":null,"available":true,"name":"Can Am Maverick ECU Reflash - 2017 \/ 2 EX","public_title":"2017 \/ 2 EX","options":["2017","2 EX"],"price":53900,"weight":1361,"compare_at_price":null,"inventory_quantity":0,"inventory_management":"shopify","inventory_policy":"continue","barcode":"ECU-CAM-STG2EX"},{"id":32654459405,"title":"2017 \/ 2 CBP","option1":"2017","option2":"2 CBP","option3":null,"sku":"WKPT-CAMAVECUR-27","requires_shipping":true,"taxable":true,"featured_image":null,"available":true,"name":"Can Am Maverick ECU Reflash - 2017 \/ 2 CBP","public_title":"2017 \/ 2 CBP","options":["2017","2 CBP"],"price":53900,"weight":1361,"compare_at_price":null,"inventory_quantity":0,"inventory_management":"shopify","inventory_policy":"continue","barcode":"ECU-CAM-STG2CBP"},{"id":32654459469,"title":"2017 \/ 3","option1":"2017","option2":"3","option3":null,"sku":"WKPT-CAMAVECUR-28","requires_shipping":true,"taxable":true,"featured_image":null,"available":true,"name":"Can Am Maverick ECU Reflash - 2017 \/ 3","public_title":"2017 \/ 3","options":["2017","3"],"price":56900,"weight":1361,"compare_at_price":null,"inventory_quantity":0,"inventory_management":"shopify","inventory_policy":"continue","barcode":"ECU-CAM-STG3"},{"id":32654459533,"title":"2017 \/ 4","option1":"2017","option2":"4","option3":null,"sku":"WKPT-CAMAVECUR-29","requires_shipping":true,"taxable":true,"featured_image":null,"available":true,"name":"Can Am Maverick ECU Reflash - 2017 \/ 4","public_title":"2017 \/ 4","options":["2017","4"],"price":59900,"weight":1361,"compare_at_price":null,"inventory_quantity":0,"inventory_management":"shopify","inventory_policy":"continue","barcode":"ECU-CAM-STG4"},{"id":32654459597,"title":"2017 \/ 4R","option1":"2017","option2":"4R","option3":null,"sku":"WKPT-CAMAVECUR-30","requires_shipping":true,"taxable":true,"featured_image":null,"available":true,"name":"Can Am Maverick ECU Reflash - 2017 \/ 4R","public_title":"2017 \/ 4R","options":["2017","4R"],"price":64900,"weight":1361,"compare_at_price":null,"inventory_quantity":0,"inventory_management":"shopify","inventory_policy":"continue","barcode":"ECU-CAM-STG4R"},{"id":13878237298753,"title":"2018 \/ 1","option1":"2018","option2":"1","option3":null,"sku":"WKPT-CAMAVECUR-31","requires_shipping":true,"taxable":true,"featured_image":null,"available":true,"name":"Can Am Maverick ECU Reflash - 2018 \/ 1","public_title":"2018 \/ 1","options":["2018","1"],"price":48900,"weight":1361,"compare_at_price":null,"inventory_quantity":0,"inventory_management":"shopify","inventory_policy":"continue","barcode":"ECU-CAM-STG1"},{"id":13878238412865,"title":"2018 \/ 2 EX","option1":"2018","option2":"2 EX","option3":null,"sku":"WKPT-CAMAVECUR-32","requires_shipping":true,"taxable":true,"featured_image":null,"available":true,"name":"Can Am Maverick ECU Reflash - 2018 \/ 2 EX","public_title":"2018 \/ 2 EX","options":["2018","2 EX"],"price":53900,"weight":1361,"compare_at_price":null,"inventory_quantity":0,"inventory_management":"shopify","inventory_policy":"continue","barcode":"ECU-CAM-STG2EX"},{"id":13878239920193,"title":"2018 \/ 2 CBP","option1":"2018","option2":"2 CBP","option3":null,"sku":"WKPT-CAMAVECUR-33","requires_shipping":true,"taxable":true,"featured_image":null,"available":true,"name":"Can Am Maverick ECU Reflash - 2018 \/ 2 CBP","public_title":"2018 \/ 2 CBP","options":["2018","2 CBP"],"price":53900,"weight":1361,"compare_at_price":null,"inventory_quantity":0,"inventory_management":"shopify","inventory_policy":"continue","barcode":"ECU-CAM-STG2CBP"},{"id":13878240641089,"title":"2018 \/ 3","option1":"2018","option2":"3","option3":null,"sku":"WKPT-CAMAVECUR-34","requires_shipping":true,"taxable":true,"featured_image":null,"available":true,"name":"Can Am Maverick ECU Reflash - 2018 \/ 3","public_title":"2018 \/ 3","options":["2018","3"],"price":56900,"weight":1361,"compare_at_price":null,"inventory_quantity":0,"inventory_management":"shopify","inventory_policy":"continue","barcode":"ECU-CAM-STG3"},{"id":13878243917889,"title":"2018 \/ 4","option1":"2018","option2":"4","option3":null,"sku":"WKPT-CAMAVECUR-35","requires_shipping":true,"taxable":true,"featured_image":null,"available":true,"name":"Can Am Maverick ECU Reflash - 2018 \/ 4","public_title":"2018 \/ 4","options":["2018","4"],"price":59900,"weight":1361,"compare_at_price":null,"inventory_quantity":0,"inventory_management":"shopify","inventory_policy":"continue","barcode":"ECU-CAM-STG4"},{"id":13878245982273,"title":"2018 \/ 4R","option1":"2018","option2":"4R","option3":null,"sku":"WKPT-CAMAVECUR-36","requires_shipping":true,"taxable":true,"featured_image":null,"available":true,"name":"Can Am Maverick ECU Reflash - 2018 \/ 4R","public_title":"2018 \/ 4R","options":["2018","4R"],"price":64900,"weight":1361,"compare_at_price":null,"inventory_quantity":0,"inventory_management":"shopify","inventory_policy":"continue","barcode":"ECU-CAM-STG4R"},{"id":13878247948353,"title":"2019 \/ 1","option1":"2019","option2":"1","option3":null,"sku":"WKPT-CAMAVECUR-37","requires_shipping":true,"taxable":true,"featured_image":null,"available":true,"name":"Can Am Maverick ECU Reflash - 2019 \/ 1","public_title":"2019 \/ 1","options":["2019","1"],"price":48900,"weight":1361,"compare_at_price":null,"inventory_quantity":0,"inventory_management":"shopify","inventory_policy":"continue","barcode":"ECU-CAM-STG1"},{"id":13878248898625,"title":"2019 \/ 2 EX","option1":"2019","option2":"2 EX","option3":null,"sku":"WKPT-CAMAVECUR-38","requires_shipping":true,"taxable":true,"featured_image":null,"available":true,"name":"Can Am Maverick ECU Reflash - 2019 \/ 2 EX","public_title":"2019 \/ 2 EX","options":["2019","2 EX"],"price":53900,"weight":1361,"compare_at_price":null,"inventory_quantity":0,"inventory_management":"shopify","inventory_policy":"continue","barcode":"ECU-CAM-STG2EX"},{"id":13878250111041,"title":"2019 \/ 2 CBP","option1":"2019","option2":"2 CBP","option3":null,"sku":"WKPT-CAMAVECUR-39","requires_shipping":true,"taxable":true,"featured_image":null,"available":true,"name":"Can Am Maverick ECU Reflash - 2019 \/ 2 CBP","public_title":"2019 \/ 2 CBP","options":["2019","2 CBP"],"price":53900,"weight":1361,"compare_at_price":null,"inventory_quantity":0,"inventory_management":"shopify","inventory_policy":"continue","barcode":"ECU-CAM-STG2CBP"},{"id":13878254436417,"title":"2019 \/ 3","option1":"2019","option2":"3","option3":null,"sku":"WKPT-CAMAVECUR-40","requires_shipping":true,"taxable":true,"featured_image":null,"available":true,"name":"Can Am Maverick ECU Reflash - 2019 \/ 3","public_title":"2019 \/ 3","options":["2019","3"],"price":56900,"weight":1361,"compare_at_price":null,"inventory_quantity":0,"inventory_management":"shopify","inventory_policy":"continue","barcode":"ECU-CAM-STG3"},{"id":13878255419457,"title":"2019 \/ 4","option1":"2019","option2":"4","option3":null,"sku":"WKPT-CAMAVECUR-41","requires_shipping":true,"taxable":true,"featured_image":null,"available":true,"name":"Can Am Maverick ECU Reflash - 2019 \/ 4","public_title":"2019 \/ 4","options":["2019","4"],"price":59900,"weight":1361,"compare_at_price":null,"inventory_quantity":0,"inventory_management":"shopify","inventory_policy":"continue","barcode":"ECU-CAM-STG4"},{"id":13878256336961,"title":"2019 \/ 4R","option1":"2019","option2":"4R","option3":null,"sku":"WKPT-CAMAVECUR-42","requires_shipping":true,"taxable":true,"featured_image":null,"available":true,"name":"Can Am Maverick ECU Reflash - 2019 \/ 4R","public_title":"2019 \/ 4R","options":["2019","4R"],"price":64900,"weight":1361,"compare_at_price":null,"inventory_quantity":0,"inventory_management":"shopify","inventory_policy":"continue","barcode":"ECU-CAM-STG4R"},{"id":31332742725697,"title":"2020 \/ 1","option1":"2020","option2":"1","option3":null,"sku":"WKPT-CAMAVECUR-43","requires_shipping":true,"taxable":true,"featured_image":null,"available":true,"name":"Can Am Maverick ECU Reflash - 2020 \/ 1","public_title":"2020 \/ 1","options":["2020","1"],"price":48900,"weight":1361,"compare_at_price":null,"inventory_quantity":0,"inventory_management":"shopify","inventory_policy":"continue","barcode":"ECU-CAM-STG1"},{"id":31332742758465,"title":"2020 \/ 2 EX","option1":"2020","option2":"2 EX","option3":null,"sku":"WKPT-CAMAVECUR-44","requires_shipping":true,"taxable":true,"featured_image":null,"available":true,"name":"Can Am Maverick ECU Reflash - 2020 \/ 2 EX","public_title":"2020 \/ 2 EX","options":["2020","2 EX"],"price":53900,"weight":1361,"compare_at_price":null,"inventory_quantity":0,"inventory_management":"shopify","inventory_policy":"continue","barcode":"ECU-CAM-STG2EX"},{"id":31332743217217,"title":"2020 \/ 2 CBP","option1":"2020","option2":"2 CBP","option3":null,"sku":"WKPT-CAMAVECUR-45","requires_shipping":true,"taxable":true,"featured_image":null,"available":true,"name":"Can Am Maverick ECU Reflash - 2020 \/ 2 CBP","public_title":"2020 \/ 2 CBP","options":["2020","2 CBP"],"price":53900,"weight":1361,"compare_at_price":null,"inventory_quantity":0,"inventory_management":"shopify","inventory_policy":"continue","barcode":"ECU-CAM-STG2CBP"},{"id":31332743315521,"title":"2020 \/ 3","option1":"2020","option2":"3","option3":null,"sku":"WKPT-CAMAVECUR-46","requires_shipping":true,"taxable":true,"featured_image":null,"available":true,"name":"Can Am Maverick ECU Reflash - 2020 \/ 3","public_title":"2020 \/ 3","options":["2020","3"],"price":56900,"weight":1361,"compare_at_price":null,"inventory_quantity":0,"inventory_management":"shopify","inventory_policy":"continue","barcode":"ECU-CAM-STG3"},{"id":31332743381057,"title":"2020 \/ 4","option1":"2020","option2":"4","option3":null,"sku":"WKPT-CAMAVECUR-47","requires_shipping":true,"taxable":true,"featured_image":null,"available":true,"name":"Can Am Maverick ECU Reflash - 2020 \/ 4","public_title":"2020 \/ 4","options":["2020","4"],"price":59900,"weight":1361,"compare_at_price":null,"inventory_quantity":0,"inventory_management":"shopify","inventory_policy":"continue","barcode":"ECU-CAM-STG4"},{"id":31332743905345,"title":"2020 \/ 4R","option1":"2020","option2":"4R","option3":null,"sku":"WKPT-CAMAVECUR-48","requires_shipping":true,"taxable":true,"featured_image":null,"available":true,"name":"Can Am Maverick ECU Reflash - 2020 \/ 4R","public_title":"2020 \/ 4R","options":["2020","4R"],"price":64900,"weight":1361,"compare_at_price":null,"inventory_quantity":0,"inventory_management":"shopify","inventory_policy":"continue","barcode":"ECU-CAM-STG4R"}],"images":["\/\/cdn.shopify.com\/s\/files\/1\/0835\/6831\/products\/Can_Am_Maverick_Tune.jpg?v=1532005143"],"featured_image":"\/\/cdn.shopify.com\/s\/files\/1\/0835\/6831\/products\/Can_Am_Maverick_Tune.jpg?v=1532005143","options":["Model Year","Stage"],"media":[{"alt":"Can Am Maverick ECU Reflash - Warranty Killer Performance","id":168519041089,"position":1,"preview_image":{"aspect_ratio":1.446,"height":830,"width":1200,"src":"https:\/\/cdn.shopify.com\/s\/files\/1\/0835\/6831\/products\/Can_Am_Maverick_Tune.jpg?v=1568840295"},"aspect_ratio":1.446,"height":830,"media_type":"image","src":"https:\/\/cdn.shopify.com\/s\/files\/1\/0835\/6831\/products\/Can_Am_Maverick_Tune.jpg?v=1568840295","width":1200}],"content":"\u003cul\u003e\n\u003cli\u003eRev Limiters set at 8700 RPMs\u003c\/li\u003e\n\u003cli\u003eSpeed \/ TQ limits removed in Low Gear\u003c\/li\u003e\n\u003cli\u003eNow Low Gear revs to 8700 (7200 stock)\u003c\/li\u003e\n\u003cli\u003eSpeed \/ TQ limits removed in High Gear\u003c\/li\u003e\n\u003cli\u003eNow High Gear revs to 8700 (8000 stock)\u003c\/li\u003e\n\u003cli\u003eEngine Speed TQ Limiters removed ("Shaft Saver Delete\")\u003c\/li\u003e\n\u003cli\u003eV-Max Removed (Removed vehicle speed limiters)\u003c\/li\u003e\n\u003cli\u003eImproved throttle response in all modes (E-Gas settings improved)\u003c\/li\u003e\n\u003cli\u003e100% throttle in all Modes (If desired)\u003c\/li\u003e\n\u003cli\u003eFans set to activate at 165°\u003c\/li\u003e\n\u003cli\u003eRace start - no need to press brake to start vehicle\u003c\/li\u003e\n\u003cli\u003eLeft foot brake enabled - allows the use of the brake and accelerator pedal at the same time\u003c\/li\u003e\n\u003c\/ul\u003e\n\u003c!-- split --\u003e \u003cmeta charset=\"utf-8\"\u003e\n\u003cp\u003eOur ECU reflash is a performance upgrade item designed to enhance your riding experience. Besides the huge horsepower gains we realize through timing, fueling, torque limit modifications and other ECU parameters, the drivability of the vehicle is greatly enhanced.\u003c\/p\u003e\n[TABS]\n\u003ch5\u003eTUNING\u003c\/h5\u003e\n\u003ch6\u003eStages\u003c\/h6\u003e\n\u003cul\u003e\n\u003cli\u003e\n\u003cb\u003eStage 1\u003c\/b\u003e Stock Exhaust - 91 Octane\u003c\/li\u003e\n\u003cli\u003e\n\u003cb\u003eStage 2 EX\u003c\/b\u003e Aftermarket Exhaust with Stock Cat - 91 Octane\u003c\/li\u003e\n\u003cli\u003e\n\u003cb\u003eStage 2 CBP\u003c\/b\u003e Stock Exhaust with Cat Bypass - 91 Octane\u003c\/li\u003e\n\u003cli\u003e\n\u003cb\u003eStage 3\u003c\/b\u003e Aftermarket Exhaust with Cat Bypass - 91 Octane\u003c\/li\u003e\n\u003cli\u003e\n\u003cb\u003eStage 4\u003c\/b\u003e Aftermarket Exhaust with Cat Bypass and Intake - 91 Octane\u003c\/li\u003e\n\u003cli\u003e\n\u003cb\u003eStage 4R\u003c\/b\u003e Aftermarket Exhaust with Cat Bypass and Intake - 100 Octane\u003c\/li\u003e\n\u003c\/ul\u003e\n\u003ch6\u003eProgramming\u003c\/h6\u003e\n\u003cul\u003e\n\u003cli\u003e\n\u003ca href=\"https:\/\/www.warrantykillerperformance.com\/pages\/servicing\"\u003eSend in\u003c\/a\u003e your ECU to get reflashed\u003c\/li\u003e\n\u003cli\u003ePurchase \u003ca href=\"https:\/\/www.warrantykillerperformance.com\/products\/can-am-maptuner-x\"\u003eMaptuner X\u003c\/a\u003e and reflash yourself\u003c\/li\u003e\n\u003c\/ul\u003e\n\u003ch5\u003eFITMENT\u003c\/h5\u003e\n\u003ch6\u003eCan-Am\u003c\/h6\u003e\n\u003cul\u003e\n\u003cli\u003eMaverick - All years \u0026amp; models\u003c\/li\u003e\n\u003c\/ul\u003e\n\u003ch5\u003eINCLUDES\u003c\/h5\u003e\n\u003ch6\u003eItem\u003c\/h6\u003e\n\u003col\u003e\n\u003cli\u003eECU Reflash - QTY 1\u003c\/li\u003e\n\u003c\/ol\u003e\n\u003ch5\u003eDETAILS\u003c\/h5\u003e\n\u003ch6\u003eShipping\u003c\/h6\u003e\n\u003cul\u003e\n\u003cli\u003e\n\u003cstrong\u003eUSPS Package:\u003c\/strong\u003e Priority Mail Small Flat Rate Box\u003c\/li\u003e\n\u003cli\u003e\n\u003cstrong\u003eBox Dimensions:\u003c\/strong\u003e 6x6x6\u003c\/li\u003e\n\u003cli\u003e\n\u003cstrong\u003eWeight:\u003c\/strong\u003e 3.0 lbs.\u003c\/li\u003e\n\u003c\/ul\u003e\n\u003ch5\u003eDOWNLOADS\u003c\/h5\u003e\n\u003ch6\u003eInstructions\u003c\/h6\u003e\n\u003cp\u003e\u003ci class=\"fa fa-file-pdf-o\"\u003e\u003c\/i\u003eNo Installation Guide Exists\u003c\/p\u003e\n[\/TABS]"}
Can Am Maverick ECU Reflash
Stages
Stage 1 Stock Exhaust - 91 Octane
Stage 2 EX Aftermarket Exhaust with Stock Cat - 91 Octane
Stage 2 CBP Stock Exhaust with Cat Bypass - 91 Octane
Stage 3 Aftermarket Exhaust with Cat Bypass - 91 Octane
Stage 4 Aftermarket Exhaust with Cat Bypass and Intake - 91 Octane
Stage 4R Aftermarket Exhaust with Cat Bypass and Intake - 100 Octane
Programming
Can-Am
Maverick - All years & models
Shipping
USPS Package: Priority Mail Small Flat Rate Box
Box Dimensions: 6x6x6
Weight: 3.0 lbs.
Instructions
No Installation Guide Exists
Customer Reviews
Ecu reflash 2015 maverick
Super fast turnaround time like always. Night and day difference after installing. Feels like a completely different bike. Starts easier and runs completely better than stock. Would definitely recommend this to anyone with a maverick. Team always goes the extra mile to make sure the parts are exactly what you want or absolutely need.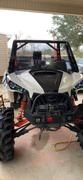 01/22/2019
Warranty Killer Performance
Let's see her full throttle. #sendit
Great product
I was a little skeptical about this product at first but after talking to the team at WKP I went ahead and bought it and WOW!!!! The difference is mind blowing feels like a whole different bike now. From the throttle response to the over all power was well worth the money. Woke my can am maverick up!!!!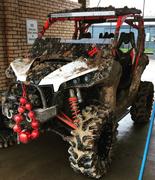 What stage do I need. 2015 can am maverick xrs Deleted cat, uni filter, primary clutch and secondary spring

Hey, All ECU calibration service pages explain what stage to choose at the bottom of the webiste page. 



Stages

Stage 1 Stock Exhaust - 91 Octane
Stage 2 EX Aftermarket Exhaust with Stock Cat - 91 Octane
Stage 2 CBP Stock Exhaust with Cat Bypass - 91 Octane
Stage 3 Aftermarket Exhaust with Cat Bypass - 91 Octane
Stage 4 Aftermarket Exhaust with Cat Bypass and Intake - 91 Octane
Stage 4R Aftermarket Exhaust with Cat Bypass and Intake - 100 Octane

2015 can am maverick 1000r what's the horsepower boosts for each stage

Hey, Below is our general write up for common ECU calibration questons. 

Avereage gains for naturally asiperated engines is 5-12 RWHP



What is the HP gain? That is not as important as how much stronger is the power curve? Thats where the real difference is felt. That is why most don't list peak gains as on average in naturally aspirated power sport machines its 5-12 RWHP but the gap between OEM and tuned below that has much greater gains. The tuning is worth it due to the torque limitations are often very safe in high as well as low gears are limited some as much as 40-60% of available power. Reverse as well is limited heavily most of the time not enough to turn the tires when in a bind in the conditions we ride in. 

 

What will my top speed be? Top speed limiters are removed on all tuning. 

 

What is limiting my top speed? Below is how to determine. 

 

How to determine this is when running the machine WOT is the machine reaching the RPM limiter? 

 

Yes, then you are out of gear ratio and at the safe rev limit. The only way to go any faster is taller tires, taller gearing if you have the power to pull it, or raising the rev limit. 

 

No, The you are either hitting a OEM speed limiter if not tuned, or do not have the power to accelerate the unit any higher with current setup. 

 

 

High EGT 

 

OEM tuning calibrations run lean at lower rpm's below peak torque to pass emissions and achieve better cruising fuel milage. This how ever creates higher exhaust gas temperatures (EGT's). WKP calibrations address this issue with proper fuel trims as well as the proper ignition timing to take advantage of the increased fuel commanded. Which in turn reduces EGT's white increasing power and throttle response. 

 

Warranty Void? 

 

We offer ECU refreshing 2 ways for this unit. 1: Sending in the ECU to be bench flashed 2: Power Vision 3 with our custom tuning which is the same tune file we use to bench flash. ECU reflashing technically does void your warranty if the ECU went to can am then they sent it to BOSCH the ECU manufacture thier engineers could not tell if the ECU was flashed even if returned stock. The dealership or can am would never be able to tell. Also you could snd the ECU back in to be returned stock or with the Power Vision 3 return the unit to stock your self in the event of a dealership visit for warranty issue. We have tuned thousands of units and never had a warranty be denied due to reflashed ECU or have it even be detected. 

How much horsepower is gained in a non turbo model

Hey Jacob, N/A units on average are 5-7 rwhp gains no supporting modifications.

I have 2018 Maverick 1000 XMR will this work on my

Yes that is correct, PLease always check fitment tab.

I have a 2013 1000xrs, I am runnung on 27x9-14. what stage would you advise? and can it be DIY installled by myself?

The stages of tuning are determined by modfictaions. If you have air filter like a foam uni and exhaust or plan to do those modfications stage 2-3. All the info on each stage tunes are listed on the website, along with instructions on how this service works. yes you can do this yourself easily unbolt ECU ship in, we flash the ecu send back out you bolt back on and plug in.

Do you do reflash for 2020 can am sport? If so, what is the hp gain for the most basic reflash?

yes we do, 5-8 hp.

Got a 2016 can am maverick 1000r.whats the hp gain on your tuner

8-12hp depending on airfliter and exhaust.

2013 maverick xrs do I need to change exhaust and air intake to get the stage 4r performance

The stage 4R will have the aded fuel for air filter / intake and exhaust. This allows us to run more timing to brun the extra fuel neting more power and throttle repsonse. Installing this stage flash without intsall those hard parts will net a richer AFR than optimal, it is not uncommon for cusotmer to buy this flash and install componets later. This will not hurt the machine it just will not be optimal.

I have a 2015 can am maverick non turbo. I have stock exhaust minus the cat. I have stm 3p primary. What stage tune do I need?

Stage 3