{"id":2352649345,"title":"Classic WKP T-Shirt","handle":"classic-wkp-t-shirt","description":"\u003cul\u003e\n\u003cli\u003e5.3-ounce, 100% cotton\u003c\/li\u003e\n\u003cli\u003e99\/1 cotton\/poly (Ash)\u003c\/li\u003e\n\u003cli\u003eSeamless double-needle 7\/8\" collar\u003c\/li\u003e\n\u003cli\u003eDouble-needle sleeves and hem\u003c\/li\u003e\n\u003cli\u003eTaped neck and shoulders\u003c\/li\u003e\n\u003c\/ul\u003e\n\u003c!-- split --\u003e \u003cmeta charset=\"utf-8\"\u003e\n\u003cp\u003eShow off your style in this bold T-shirt. It looks great on its own or layered under a jacket in the cooler months. Available in a fashionable soft gray color to accentuate any outfit. Lightweight and soft against the skin, this polyester and cotton blend will keep you cool and comfortable all day long. Layer this all-season design or wear it alone - no matter how you wear it, you'll stay stylish and comfortable. These short sleeves give your arms a better range of motion and ease of movement. A classic shirt collar will pair well with any style of jacket.\u003c\/p\u003e\n[TABS]\n\u003ch5\u003eFITMENT\u003c\/h5\u003e\n\u003ch6\u003eApparel\u003c\/h6\u003e\n\u003cul\u003e\n\u003cli\u003eMens\u003c\/li\u003e\n\u003cli\u003eWomens\u003c\/li\u003e\n\u003cli\u003eKids\u003c\/li\u003e\n\u003c\/ul\u003e\n\u003ch5\u003eINCLUDES\u003c\/h5\u003e\n\u003ch6\u003eItem\u003c\/h6\u003e\n\u003col\u003e\n\u003cli\u003eT-Shirt - QTY 1\u003c\/li\u003e\n\u003c\/ol\u003e\n\u003ch5\u003eDETAILS\u003c\/h5\u003e\n\u003ch6\u003eShipping\u003c\/h6\u003e\n\u003cul\u003e\n\u003cli\u003e\n\u003cstrong\u003eUSPS Package:\u003c\/strong\u003e Priority Mail Padded Flat Rate Envelope\u003c\/li\u003e\n\u003cli\u003e\n\u003cstrong\u003eBox Dimensions:\u003c\/strong\u003e 6x6x6\u003c\/li\u003e\n\u003cli\u003e\n\u003cstrong\u003eWeight:\u003c\/strong\u003e 0.1 lbs.\u003c\/li\u003e\n\u003c\/ul\u003e\n\u003ch5\u003eDOWNLOADS\u003c\/h5\u003e\n\u003ch6\u003eInstructions\u003c\/h6\u003e\n\u003cp\u003e\u003ci class=\"fa fa-file-pdf-o\"\u003e\u003c\/i\u003eNo Installation Guide Exists\u003c\/p\u003e\n[\/TABS]","published_at":"2018-11-14T00:07:56-06:00","created_at":"2015-10-29T10:23:27-05:00","vendor":"Warranty Killer Performance","type":"Apparel","tags":[],"price":1500,"price_min":1500,"price_max":1500,"available":false,"price_varies":false,"compare_at_price":2195,"compare_at_price_min":2195,"compare_at_price_max":2195,"compare_at_price_varies":false,"variants":[{"id":7812787201,"title":"Small \/ Gray","option1":"Small","option2":"Gray","option3":null,"sku":"WKPTS-SMALL","requires_shipping":true,"taxable":true,"featured_image":null,"available":false,"name":"Classic WKP T-Shirt - Small \/ Gray","public_title":"Small \/ Gray","options":["Small","Gray"],"price":1500,"weight":454,"compare_at_price":2195,"inventory_quantity":0,"inventory_management":"shopify","inventory_policy":"deny","barcode":""},{"id":7812787265,"title":"Medium \/ Gray","option1":"Medium","option2":"Gray","option3":null,"sku":"WKPTS-MEDIUM","requires_shipping":true,"taxable":true,"featured_image":null,"available":false,"name":"Classic WKP T-Shirt - Medium \/ Gray","public_title":"Medium \/ Gray","options":["Medium","Gray"],"price":1500,"weight":454,"compare_at_price":2195,"inventory_quantity":0,"inventory_management":"shopify","inventory_policy":"deny","barcode":""},{"id":7812787329,"title":"Large \/ Gray","option1":"Large","option2":"Gray","option3":null,"sku":"WKPTS-LARGE","requires_shipping":true,"taxable":true,"featured_image":null,"available":false,"name":"Classic WKP T-Shirt - Large \/ Gray","public_title":"Large \/ Gray","options":["Large","Gray"],"price":1500,"weight":454,"compare_at_price":2195,"inventory_quantity":0,"inventory_management":"shopify","inventory_policy":"deny","barcode":""},{"id":7812787393,"title":"X-Large \/ Gray","option1":"X-Large","option2":"Gray","option3":null,"sku":"WKPTS-XLARGE","requires_shipping":true,"taxable":true,"featured_image":null,"available":false,"name":"Classic WKP T-Shirt - X-Large \/ Gray","public_title":"X-Large \/ Gray","options":["X-Large","Gray"],"price":1500,"weight":454,"compare_at_price":2195,"inventory_quantity":0,"inventory_management":"shopify","inventory_policy":"deny","barcode":""},{"id":7812787457,"title":"XX-Large \/ Gray","option1":"XX-Large","option2":"Gray","option3":null,"sku":"WKPTS-XXLARGE","requires_shipping":true,"taxable":true,"featured_image":null,"available":false,"name":"Classic WKP T-Shirt - XX-Large \/ Gray","public_title":"XX-Large \/ Gray","options":["XX-Large","Gray"],"price":1500,"weight":454,"compare_at_price":2195,"inventory_quantity":0,"inventory_management":"shopify","inventory_policy":"deny","barcode":""},{"id":7812787521,"title":"XXX-Large \/ Gray","option1":"XXX-Large","option2":"Gray","option3":null,"sku":"WKPTS-XXXLARGE","requires_shipping":true,"taxable":true,"featured_image":null,"available":false,"name":"Classic WKP T-Shirt - XXX-Large \/ Gray","public_title":"XXX-Large \/ Gray","options":["XXX-Large","Gray"],"price":1500,"weight":454,"compare_at_price":2195,"inventory_quantity":-2,"inventory_management":"shopify","inventory_policy":"deny","barcode":""}],"images":["\/\/cdn.shopify.com\/s\/files\/1\/0835\/6831\/products\/WKP_T_Shirt_-_Back.png?v=1446132668","\/\/cdn.shopify.com\/s\/files\/1\/0835\/6831\/products\/WKP_T_Shirt_-_Back_Close.jpg?v=1446132668","\/\/cdn.shopify.com\/s\/files\/1\/0835\/6831\/products\/WKP_T_Shirt_-_Front.png?v=1446132668","\/\/cdn.shopify.com\/s\/files\/1\/0835\/6831\/products\/WKP_T_Shirt_-_Front_Close.jpg?v=1446132668"],"featured_image":"\/\/cdn.shopify.com\/s\/files\/1\/0835\/6831\/products\/WKP_T_Shirt_-_Back.png?v=1446132668","options":["Size","Color"],"media":[{"alt":null,"id":32532365377,"position":1,"preview_image":{"aspect_ratio":0.75,"height":1067,"width":800,"src":"https:\/\/cdn.shopify.com\/s\/files\/1\/0835\/6831\/products\/WKP_T_Shirt_-_Back.png?v=1568707637"},"aspect_ratio":0.75,"height":1067,"media_type":"image","src":"https:\/\/cdn.shopify.com\/s\/files\/1\/0835\/6831\/products\/WKP_T_Shirt_-_Back.png?v=1568707637","width":800},{"alt":null,"id":32532398145,"position":2,"preview_image":{"aspect_ratio":0.75,"height":2048,"width":1536,"src":"https:\/\/cdn.shopify.com\/s\/files\/1\/0835\/6831\/products\/WKP_T_Shirt_-_Back_Close.jpg?v=1568707637"},"aspect_ratio":0.75,"height":2048,"media_type":"image","src":"https:\/\/cdn.shopify.com\/s\/files\/1\/0835\/6831\/products\/WKP_T_Shirt_-_Back_Close.jpg?v=1568707637","width":1536},{"alt":null,"id":32532430913,"position":3,"preview_image":{"aspect_ratio":0.75,"height":1067,"width":800,"src":"https:\/\/cdn.shopify.com\/s\/files\/1\/0835\/6831\/products\/WKP_T_Shirt_-_Front.png?v=1568707637"},"aspect_ratio":0.75,"height":1067,"media_type":"image","src":"https:\/\/cdn.shopify.com\/s\/files\/1\/0835\/6831\/products\/WKP_T_Shirt_-_Front.png?v=1568707637","width":800},{"alt":null,"id":32532463681,"position":4,"preview_image":{"aspect_ratio":0.75,"height":2048,"width":1536,"src":"https:\/\/cdn.shopify.com\/s\/files\/1\/0835\/6831\/products\/WKP_T_Shirt_-_Front_Close.jpg?v=1568707637"},"aspect_ratio":0.75,"height":2048,"media_type":"image","src":"https:\/\/cdn.shopify.com\/s\/files\/1\/0835\/6831\/products\/WKP_T_Shirt_-_Front_Close.jpg?v=1568707637","width":1536}],"content":"\u003cul\u003e\n\u003cli\u003e5.3-ounce, 100% cotton\u003c\/li\u003e\n\u003cli\u003e99\/1 cotton\/poly (Ash)\u003c\/li\u003e\n\u003cli\u003eSeamless double-needle 7\/8\" collar\u003c\/li\u003e\n\u003cli\u003eDouble-needle sleeves and hem\u003c\/li\u003e\n\u003cli\u003eTaped neck and shoulders\u003c\/li\u003e\n\u003c\/ul\u003e\n\u003c!-- split --\u003e \u003cmeta charset=\"utf-8\"\u003e\n\u003cp\u003eShow off your style in this bold T-shirt. It looks great on its own or layered under a jacket in the cooler months. Available in a fashionable soft gray color to accentuate any outfit. Lightweight and soft against the skin, this polyester and cotton blend will keep you cool and comfortable all day long. Layer this all-season design or wear it alone - no matter how you wear it, you'll stay stylish and comfortable. These short sleeves give your arms a better range of motion and ease of movement. A classic shirt collar will pair well with any style of jacket.\u003c\/p\u003e\n[TABS]\n\u003ch5\u003eFITMENT\u003c\/h5\u003e\n\u003ch6\u003eApparel\u003c\/h6\u003e\n\u003cul\u003e\n\u003cli\u003eMens\u003c\/li\u003e\n\u003cli\u003eWomens\u003c\/li\u003e\n\u003cli\u003eKids\u003c\/li\u003e\n\u003c\/ul\u003e\n\u003ch5\u003eINCLUDES\u003c\/h5\u003e\n\u003ch6\u003eItem\u003c\/h6\u003e\n\u003col\u003e\n\u003cli\u003eT-Shirt - QTY 1\u003c\/li\u003e\n\u003c\/ol\u003e\n\u003ch5\u003eDETAILS\u003c\/h5\u003e\n\u003ch6\u003eShipping\u003c\/h6\u003e\n\u003cul\u003e\n\u003cli\u003e\n\u003cstrong\u003eUSPS Package:\u003c\/strong\u003e Priority Mail Padded Flat Rate Envelope\u003c\/li\u003e\n\u003cli\u003e\n\u003cstrong\u003eBox Dimensions:\u003c\/strong\u003e 6x6x6\u003c\/li\u003e\n\u003cli\u003e\n\u003cstrong\u003eWeight:\u003c\/strong\u003e 0.1 lbs.\u003c\/li\u003e\n\u003c\/ul\u003e\n\u003ch5\u003eDOWNLOADS\u003c\/h5\u003e\n\u003ch6\u003eInstructions\u003c\/h6\u003e\n\u003cp\u003e\u003ci class=\"fa fa-file-pdf-o\"\u003e\u003c\/i\u003eNo Installation Guide Exists\u003c\/p\u003e\n[\/TABS]"}
Classic WKP T-Shirt
Shipping
USPS Package: Priority Mail Padded Flat Rate Envelope
Box Dimensions: 6x6x6
Weight: 0.1 lbs.
Instructions
No Installation Guide Exists
Customer Reviews
11/07/2018
Zach P.
United States
Customer service
Best customer service I have ever expected. Always very patient and knowledgeable about questions and product usage and installation. Ever if they do not have the product I need on the website they always go the extra mile and get it for me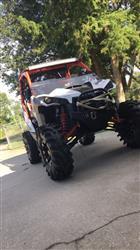 11/07/2018
Warranty Killer Performance
Now that is a SWEET looking Maverick! Thanks for sharing!
03/22/2018
David W.
United States
t-shirt
outstanding!!!!!!!!!!!!!!!1