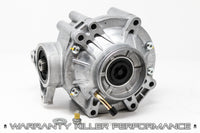 Can Am 2006-2012 GEN 1 Rear Differential
- Stock
$ 1,049.99
Customer Reviews
07/28/2021
Gary G.

United States
I recommend this product
Great product & customer service.
Could not asking for better people to deal with. Amazing customer service and great product. Got the differential installed and put it to the test right away. Sounds great feels great and so far has held up amazing. From crawling slow through the woods over the rocks to being wide open sliding corners and hitting jumps.
06/03/2020
Anonymous

United States
I recommend this product
Awesome
Works better than I thought it would have me more power in my back end love it
I'm about to order this diff for my 2016 renegade 850 will it bolt right up or will i need something else

This differential fits: 2013 Can Am Maverick, 2013-15 Can Am Outlander 1000 XMR, 2014 Can Am Maverick 1000 XMR, 2015 Can Am Outlander 800R XMR, 2016 Can Am Outlander MAX, 2016 Can Am Renegade. This is direct bolt in but the driveshaft will need to be sent in to get shortened. Please contact customer service at (318) 584-7090 if you would like to proceed. :)

Will this HD Series differential fit a 2011 Can-AM Oulander 800R XXC? Are there any options to bolt up a gen 2 diff in place of a gen 1 diff? If so, what are the pros/cons?

Hey Jayden, yes it will. Yes you can bolt up the gen 2, but you have to relocate your rear pinion brake if thats where yours is mounted.

I have a 2010 outlander 800 xt. Is this the correct diff for my atv?

Yes sir this is.

Will it work on 2012 commander 800 and it says no warranty from can am or warranty killer I've bought 2 that were trash off eBay but they refunded the money so is there a warranty on this dif?

A 2012 Can-Am Commander 800 shows to have the "703501019 - Can Am GEN 2 Rear Differential" instead of this one. The "Stock" setup type carries no warranty from Can-Am no matter which Can-Am dealer you purchase it from. The "HD Series" carries a 1-year warranty from Warranty Killer Performance, not Can-Am. We can't speak on behalf of eBay sellers but you can checkout our Warranty and Returns page for more information.

Is there any differential in the rear axle of my 2012 Can am Comander Limited. The operator's manual says that it is Final Drive. Will I do any damage to drive it one mile on paved roads to get to my trails?

Please email us here. https://www.warrantykillerperformance.com/pages/tech

How soon could I have the diff in and will I need anything else for install.

All shipping info is on the product link on the webiste along with shipping maps for time frames once shipped. Thanks!

I have a 2012 gen 1 bike will a gen 2 rear diff work in the place of the gen 1? I'm ok losing the rear brake.

Yes they are the same bolt pattern, this will also remeove the moutning point for the rear braker caliper. Correct.

I have a 2007 Cam am 650 outlander will this differential fir mt machine

yes this is the correct OEM diffirential that comes in that unit stock.

Will a gen 1 diff fit on a gen 2

Yes, They are the same bolt pattern, the same spline count for axels and driveshaft. The only difernce is the GEN 1 will have a brake caliper bracket casted into the housing you will not use. This will bolt right up and work fine. We do recommend the new GEN 2 depending on how old the GEN 1 is you are considering as they have made beairng and gear chnages for a more reliable setup.

Do the dips come full of fluid

They do not. You will need to add fluid.