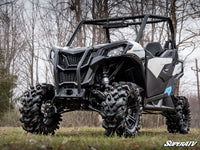 Can-Am Maverick Trail 3" Lift Kit
$ 249.95
have you received any negative feedback on the lift kit ? looks like you would need to purchase a spring compressor ?

Hey Scott, No sir and thats correct for any spring install just about.

Does the 3in lift for the maverick trail add any width to the machine?

Anytime you add brackets only and do not change the a arms it will narrow the unit a little.