Clutch Bushing Tool Kit
GREAT DEAL
---
Vendor: EPI Performance AUTHORIZED DEALER
Type: Tools
Part #: EPICBT3
Inventory: Might be drop shipped by manufacturer
Incoming: May not ship until
Lead Time: Contact Us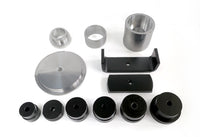 Clutch Bushing Tool Kit
$ 229.99
Can be used on both primary and secondary clutches to remove and replace clutch bushings
Requires piston pin puller - part # EPIPRT1
Replaces tool kit for Polaris # PA-47336 & 2871025
Works on Polaris primary clutches with a smooth centershaft bearing
To be used with EPI Clutch Rebuild Kit numbers: WE210185, WE210190, WE210920, WE210930, WE210934, WE213215
Installation tool designed to safely install Arctic Cat, Kawasaki and Polaris flyweight bushings without the risk of crushing them.
FITMENT
Polaris
Primary Clutches
Secondary Clutches
INCLUDES
Item
Tool Kit - QTY 1
DETAILS
Shipping
Box Dimensions: TBD
Weight: 10.0 lbs.
DOWNLOADS
Instructions
No Installation Guide Exists
Media
No Media Exists
QUESTIONS & ANSWERS
Have a Question?
Be the first to ask a question about this.
Ask a Question