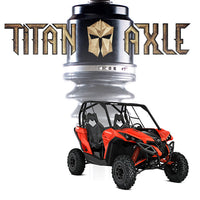 Titan Axle Can-Am Maverick Turbo Axle
- Rear (Turbo)
$ 205.00
i have a 2016 maverick xdx non turbo will these fit

S3-23B30 & S3-23C10 are the correct axles for your bike Corey

Hi, I'm looking for a Right Front side shaft with CV joints for a Can-Am Maverick X3 XRS 2018. Kindly send me a part number and price for your Titan axle. I am South Africa and would also like to find out the UPS costs involved or do I need to arrange shipping? Thank You,

Hey sir here is the webiste link you can add item to your cart and get all that info. Thanks! 
https://www.warrantykillerperformance.com/products/titan-axle-can-am-maverick-x3-72-axle?variant=13552336928833

Part# S3-23D48

Just snapped the front left axle on my 2019 Maverick XMR 1000, will these fit?

Yes they will.

Will the axles work on a 2017 canam maverick xmr

Yes sir it will!

Will this fit a 2019 maverick sport?

No sir they do not offer them for the sport. We can provide OEM or upgraded RCV. If interested please email sales@warrantykillerperformance.com

Thanks!