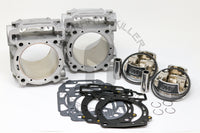 WKP Can Am 1000 R Big Bore Kit
- 12-5-1 (Octane Rating 93) / 976
$ 899.99
Do you make a kit that would support 6-9 psi of boost?

Hey Dave, We do have kits for that application. We would need one of these forms filled out. Then we can put you togeather something custom if need be.

What is the bore for this 1132 kit? What is your octane recommendation for the 12.5 and 14:1 compression ratios? Thanks B

Hey Brian, The 1132 kit bore size is 98mm. All our kits are calculated displacment true unlike other companies that inflate thier kit cc number running same or smaller piston bore. 12-5-1 is pump gas 87-93 depending on ignition timing. 14-1 is always going to be 96+ depdning on ignition timing.