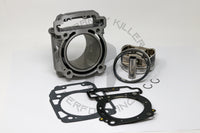 WKP Can Am 400 Big Bore Kit
- 12-5-1 (Octane Rating 93) / 400
$ 499.99
is this item in stock

Hello, all components are in stock, however depending on what size you select, the cylinder(s) may have to be sent to the machine shop to be bored to the specified size.

How much HP will 436 kit add?

Hey Richard, We do not list HP gains as there are too many variables. 

A good rule of thumb is 5 RWHP per 100 cc gain. 

Since this kit is higher compresison its proably more like 7 RWHP per 100 cc gain per compression point.

Are two of these needed?

Hey Richard, The 400 is a single cylinder and this is a kit so only one.

Ca este diametrul cilindrului?

Hey Mahia, The kits info is on the product page.