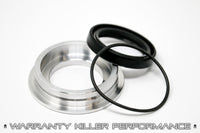 WKP "Spartan Series" Polaris Transmission Seal Cover Kit
- Kit (Seal, O-Ring & Seal Cover)
$ 99.99
Does this fit a 2017 RZR XP 1000 non turbo?

Hey Chris, Yes sir it does.

Does this fit a 2019 ranger 1000 highlifter

No, sorry, this is for RZR only. If you'd like, we can get you just the seal for your unit, we just don't have the aluminum cover for that model.