Customer Reviews
100
reviewers would recommend this product
Write a Review
I recommend this product
Sec. Clutch rollers
Just installed and have not tested yet
07/13/2022
James S.

United States
I recommend this product
Clutch rollers
Received kit in a couple days and they fit great.
06/21/2022
Ryan K.

United States
I recommend this product
Waiting for tuning and clutching package to arrive
Like the title says. I'm Waiting for tuning and clutching package to arrive before I fully review. Not sure why these aren't included in the performance tuning and clutch kit. This is the 3rd email I got requesting a review on the rollers. Not sure if/when the emails would stop if I didn't review……. I have high hopes for the tuning and clutching I purchased. Total will be about $1700 including these rollers.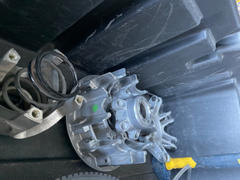 01/10/2022
Christopher R.

United States
12/02/2021
Daniel W.

United States
I recommend this product
Directions completely inadequate
I cannot rate the rollers because I was not able to get them in. I had to do some researching and fortunately was sent a video on how to properly replace the rollers. After step four in the provided directions, you left out Removing the four bolts on the back of the clutch to remove the helix. Then separating the clutch halves. Then removing the white synthetic O-ring that covers one side of the pins. Then you can remove the pins then the roller retaining screws. You cannot replace the rollers by following the provided instructions.
The wkp rollers are not the same dimensions as the oem ? What's the difference and what will this effect ?

There is a slight difference in size between the two. Ours performs better and will far exceed the life expectancy versus the OEM. The size has no affect on the machine, size or performance.

do these need any additional products? pens spacers ?

Hey Charity, there is an installation guide under the "Downloads" tab that will explain in detail how to install and list everything you need to complete the job. Let us know if you have any questions!

A quand vous pensez en ravoir de disponible. Merci

Pending but we're hoping within 2 weeks.

JUST BOUGHT CAN AM DEFENDER PART#WKP-CAMXDTDSCRK ROLLER KIT AND CAME WITH WASHERS WONDERING WHERE THEY GO WHAT SIDE OF ROLLER? ANY PICS WOULD HELP. THANKS

Eric, if your Can-Am Defender has the washers on them from the factory on the outside of your secondary clutch, then you can run the washers that we provide in the kit. Some years did not run the washers and the secondary clutch housing is narrower and will not run the washers. If the washers fit on the outside of the rollers then you can use them, if not, there should not be an issue. Should you need technical support please submit a ticket or contact us.