WKP STM Two Way Bearing Service Kit
GREAT DEAL
Vendor: STM Powersports AUTHORIZED DEALER
Type: Clutch
Part #: WKP-STMTWBSK
Related: 1001000, 1001019
Inventory: Might be drop shipped by manufacturer
Incoming: May not ship until
Lead Time: Contact Us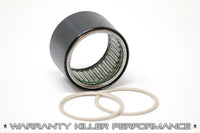 WKP STM Two Way Bearing Service Kit
$ 129.99
Preventative maintenance item
Includes bearing and both washers
Fits STM clutches
Our two way bearing service kit is a preventative maintenance kit designed to replace the two way bearing on the STM primary clutch - the correct way. The thrust washers on either side of the two way bearing should always be replaced when installing a new bearing. Failure to properly service this bearing will result in hard shifting, creeping while in gear and premature belt failure. This kit replaced the STM OEM two way bearing, part #: 1001000 (Sleeved and Non-Sleeved) and both STM OEM thrust washers, part #: 1001019 (Thrust Washer).
FITMENT
STM
INCLUDES
Kit
Bearing - QTY 1
Thrust Washer - QTY 2
DETAILS
Shipping
USPS Package: Priority Mail Small Flat Rate Box
Box Dimensions: 10x8x1
Weight: 0.3 lbs.
DOWNLOADS
Instructions
No Installation Guide Exists
QUESTIONS & ANSWERS
Have a Question?
Be the first to ask a question about this.
Ask a Question