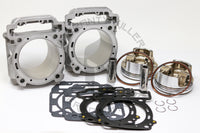 WKP Can Am 650/800 Big Bore Kit
- 12-5-1 (Octane Rating 93) / 836
$ 1,199.99
Do you need a fuel tuner to install this kit?

Hey Cameron, you always need a ECU calibration after changing anything that alters air flow or the stock VE of the engine. 

Please shoot us a etch form here to explore pricing and options to do everything correct.

Do you have a kit that would be compatible with a 2021 Can Am Maverick Trail 800 DPS?

Hey Melissa, That enigne is a 800 base engine so any of our kits under the 650 / 800 big bore kts are compatiable anything over the stokc size bore will require ECU reflash or device and tuning.

list of other devcies below that can deliever tunign as well.
https://www.warrantykillerperformance.com/products/pv4-25-02?_pos=1&_sid=afcf1e732&_ss=r
https://www.warrantykillerperformance.com/products/wkp-spartan-series-hp-polaris-calibration-bundle?_pos=1&_sid=8291f0838&_ss=r


What is the difference in compression options

Hey Jack, All options are on the webiste under that product. We keep it simple 12-5-1 93 pump gas, 14-1 is for min 96 octane.
We can set the kit at what ever you like but those two are optimal for the fuel catigories.

How much horsepower will the 936 kit be

Hey Jack, that is too dynamic for us to anwser as ever engine combo is different. Also this kit is for base engines from 650-800. We dont know what your starting with. I am assuming your using stock camshafts and they vary from those engine ranges as well as throttle bodies, inatkes, heads, injectors. Please email us at sales@warrantykillerperformance.com

A good rule of thumb is 5rwhp per 100cc increase, but could be more as tuning on those stock machines pick up 5-10 rwhp stock, adding big bore only with tuning could net 2-5 more. Peak is not what you should look at, it will build power quicker so the average over a WOT pull will be higher than stock thats what relates to what the rider feels. Compression increase also increases trq and hp over the entire rpm range. A lot of factors but adding big bore is a notcicbale difference tuned properly.

Will this fit 2022 can am outlander xmr 570 de tuned 650

Hey Mike, yes sir it will!

The 872 big bore kit for can am 650 xmr. Will I need maverick heads for it to work

Hey David, No sir you do not have to have the R cylinder heads for this kit to work. 


Is there anyway to fit a 936 kit on a 570 if it is only a 650 detuned

Hey Charles, Yes sir that kit is compatiable with all true 650 size engines. You will need PV3 and our tuning as supporting modifications.