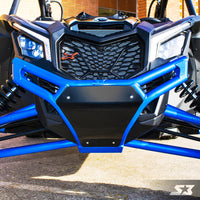 Can Am Maverick X3 Front Bumper
- 2017 / XDS / Black
$ 489.00
is this bumper winch compatible?

Hey will, This bumper does work with a winch monted in the factory position on a modfied XMR or XRC winch bulk head. S3 offers an option that has the skid plate and tabs removed as well as bulk head tabs removed to fit correct with XMR or XRC factpry front bumper. Most cut the stinger off the factory XMR or XRC bumper to give it a cleaner look and repowder coat. We also have an option cheaper and simpler if you do not have XRC or XMR bulk head. We offer a bulk head for a winch no modifications to fit there winch version of this bumper.

Is this bumper winch compatible?

No sir, They did just release a S3 for can am winch bumper thats sweet!
Email us and when they offcially, release we can email you sir.