Polaris Rzr 900 4" Portal Gear Lift
GREAT DEAL
Vendor: Super ATV AUTHORIZED DEALER
Type: Drivetrain
Part #: PGHD-1-44-151-B#AB
Inventory: Might be drop shipped by manufacturer
Inventory: Might be drop shipped by manufacturer
Inventory: Might be drop shipped by manufacturer
Inventory: Might be drop shipped by manufacturer
Inventory: Might be drop shipped by manufacturer
Inventory: Might be drop shipped by manufacturer
Inventory: Might be drop shipped by manufacturer
Inventory: Might be drop shipped by manufacturer
Inventory: Might be drop shipped by manufacturer
Incoming: May not ship until
Lead Time: Contact Us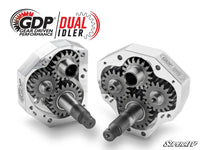 Polaris Rzr 900 4" Portal Gear Lift
- 2 Seater / Manufactured before 3/2/2015 / Dual
$ 3,699.95
Available with billet or cast aluminum housing
Dual idler gear configuration maximizes strength
Cool, quiet, precision-ground gears made from 9310 alloy billet steel
1.5 in. diameter 4340 hardened steel drive shaft
Housings use Thermo-Tork® gaskets or O-rings that don't let anything through
Universal hub fits all major bolt patterns
Gear reduction reduces stress on your drivetrain
Dual idler gear configuration adds a 1" offset
Lighter than the competition
Wheel Requirements:
14" or larger wheel required
Wheels cannot exceed 5" backspacing
Not compatible with dual beadlock wheels
GDP Portals Are Best in Class
A portal gear lift is the pinnacle of power and performance, and nobody does it better than GDP. So get SuperATV's Polaris RZR 900 4" GDP Portal Gear Lift to take your ride to the next level. You get your choice of 15% or 30% gear reductions and cast or billet aluminum housings. On top of getting your perfect torque, you have the option to upgrade to dual idler gears for ultimate strength.

What is a Dual Idler?
Perfection takes time. After years of research and development, we've made our dual idler gear portals unlike any other. By placing a second idler gear in the portal box, the load gets spread over twice as much surface area for more reliable torque transfer and the strongest gear set you can get. Two idler gears don't do a thing if they're not mated perfectly, though. Precision CNC grinding ensures ours do. Our gears are made from the industry's toughest 9310 steel alloy. Didn't think dual idlers mattered? With GDP's quality and experience, they finally do.

GDP Works for All Kinds of Rides
If you like getting down and dirty, choose a 30% gear reduction and start flingin' mud. It gives you low-end torque for massive tires and power to push through peanut butter mud. If you prefer to drive flat out, choose a 15% gear reduction. It still gives you a bunch of torque for bigger tires but leaves plenty of your top-end speed. No matter where or how you ride, we've got you covered.

Portals Are Easy on Your Drivetrain
These RZR 900 portals put the gear reduction in the hub and makes life easier for the entire drivetrain. Your axles maintain factory geometry and work less. Your axles, prop shaft, differential, and transmission are under less stress. That means longer lasting components, and a lift that doesn't destroy your machine.

Designed with Long-Lasting Strength
We dare you to find something stronger than GDP portals. Just like everything else that goes into this product, our housings are well researched and long tested. Whether you choose cast or billet aluminum, they come paired with our advanced steel alloy backing plates to make your hubs stronger than any alternative.
Our housings are reinforced for gear retention and optimized for oil flow
Advanced steel alloy backing plates are stronger than chromoly
Enhance with

Portal Blood—gear oil formulated for GDP Portals
There are no gimmicks and no vents because vents do more harm than good—we know because we tested them
FITMENT
Polaris RZR 900 : 2015-2020
Polaris RZR 4 900 : 2015-2018
Polaris RZR S4 900 : 2018
Polaris RZR S 900 : 2015-2020
Polaris RZR 900 XC : 2015-2017
NOTE: Wheels need to have a center hole of at least 3.25" (82.55mm) or require a 1" wheel spacer.
INCLUDES
Item
DETAILS
Limited Lifetime Warranty
When filling gear box use only 80W-90 gear oil. Using grease will cause failure of gears and bearings.

Using grease will void your warranty.
SuperATV takes pride keeping your GDP Portal Gear Lift in working order. That's why we give you, the original purchaser, a lifetime of portal protection contingent on the following conditions. SuperATV warrants this product and its parts (excluding bearings, seals, & gaskets). Warranty is limited to material and / or workmanship defect at the time of shipment from the factory, and in no event shall seller have any liability for consequential damages of any kind resulting from a breach of this warranty. This warranty will be void on all products that show evidence of misapplication, improper installation, abuse, lack of proper maintenance, negligence, or alteration from original design. This warranty is in lieu of any other warranties, either expressed or implied, INCLUDING ANY IMPLIED WARRANTIES OF MERCHANTIBILTY OR FITNESS FOR ANY PARTICULAR PURPOSE.
Procedures for obtaining warranty service:
Should you have any problems with your Gear Driven Performance product, please call SuperATV Customer Service at 855-743-3427. Please have a copy of your original purchase receipt available, with dealer name (if applicable), date of purchase, and invoice number when calling for technical help. Most often, installation, or break in procedural issues (See break in procedure information, located in the instructions) can be handled quickly by speaking with one of our customer service representatives.
If it is determined that repairs are required to your Gear Driven Performance portal, you MUST acquire an RGA number from our customer service team. RGA's and repair services are ONLY rendered by SuperATV. Any shipping costs incurred after 30 days (starting from the original purchase date) on any Portal returned for repair is the customer's responsibility. ALL Portals must be returned in the original box, with the original packaging, or a similarly well protected box. ALL portals must have the RGA number clearly written on the outside of the package. NO COD packages will be accepted, and no package will be accepted without an RGA number written on the outside of the box. Shipping information, including address and method, will be given to you by our customer service team and/or listed on our website when you create your RGA.
Upon arrival of your warranty parts we will have them inspected by our technicians to determine if the damage was a manufacturing defect or rider/installation error. The inspection usually takes place 1-2 days after the package arrives. SuperATV will then call you with the results of the inspection. Depending on the outcome of the inspection, you may be required to pay a replacement fee for the broken parts (prices may vary depending on parts that need to be replaced). We do our best to get your issues corrected as soon as possible so you can get back out on the trails. We also match shipping labels for our customers. If you ship the warranty parts to us with an overnight label, we will return the favor and send you the replacements parts on an overnight shipment at no charge.
If you have product that is outside of warranty coverage or it is determined that product shows evidence of misapplication, improper installation, abuse, lack of proper maintenance, negligence, or alteration from original design. Customer will be notified and we will repair for a $250 fee.
Replacement bearings, seals and gaskets can be found at www.SuperATV.com.
Thank you for your business!
DOWNLOADS
Instructions