Polaris Scrambler 4" Portal Gear Lift
GREAT DEAL
---
Vendor: Super ATV AUTHORIZED DEALER
Type: Drivetrain
Part #: PGH-1-21-152-B#SCR
Inventory: Might be drop shipped by manufacturer
Inventory: Might be drop shipped by manufacturer
Inventory: Might be drop shipped by manufacturer
Inventory: Might be drop shipped by manufacturer
Inventory: Might be drop shipped by manufacturer
Inventory: Might be drop shipped by manufacturer
Inventory: Might be drop shipped by manufacturer
Inventory: Might be drop shipped by manufacturer
Inventory: Might be drop shipped by manufacturer
Incoming: May not ship until
Lead Time: Contact Us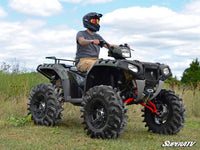 Polaris Scrambler 4" Portal Gear Lift
- Yes / Billet / 15%
$ 3,249.95
Available with billet or cast aluminum housing
Cool, quiet, precision ground gears made from 9310 alloy billet steel
Increases width by 4 in. per side (8 in. total)
1.5 in. diameter 4340 hardened steel drive shaft
Housings use Thermo-Tork® gaskets that don't let anything through
Universal hub fits all major bolt patterns
Gear reduction reduces stress on your drivetrain
Weighs 194 lb. total, which is 50+ lb. lighter than the competition
Wheel Requirements:
14" or larger wheel required
Wheels cannot exceed 5" backspacing
Not compatible with dual beadlock wheels
Gen 3 Portals Are Geared for All
Ride the way you want with SuperATV's GDP 4" Portal Gear Lift for the Polaris Scrambler. This addition will take your quad from standard to outstanding as you unleash power you never knew you had. And you've got options! Choose from cast or billet aluminum housings, and then pick your gear reduction. No matter how you ride, GDP portals bring out the best in your machine.

GDP—the Most Trusted Name in Portals
You don't have to take our word for it when we tell you GDP portals are the best portal gear lifts on the market. Just look at the thousands of riders across the country (and beyond) who have put in countless miles on these things! More riders choose GDP portals over any other brand, and that speaks volumes when it comes to just how trail tested and customer trusted our portals are.
Perfect for Mud
Taking on mud with an ATV running GDP portals is a whole new ball game. You'll experience power that you never thought possible as you cut through the thick mud that used to slow you down. And what's more, you won't have to worry about getting swamped since you'll have that added ground clearance! Talk about a good time.

A Gear Reduction That Protects Your Drivetrain
One of the many perks of portals is how they put the gear reduction right in the hub. This keeps your drivetrain from being placed under a bunch of extra stress. Knowing that your axles, differential, prop shaft, and transmission aren't being abused lets you focus on the tasks at hand—tearin' it up and having a blast.

Learn more about how tire size and gear reduction can unleash your machine's potential.

Unmatched Gear Material
We deliver nothing but the best, most top-of-the-line gears in our GDP portals. They're made out of a strong and reliable 9310 alloy steel, and we precision grind them to ensure that the teeth mate perfectly every time. So what does all of this get you? A smooth, quiet ride, no matter how hard you're pushing your machine.

Stronger Housings by Design
We dare you to find housings stronger than what we make for our GDP portals. Just like everything else that goes into this product, our housings are well researched and long tested. And you get a choice—go with cast or USA-made, CNC-machined 6061 billet aluminum. Regardless of what you pick, you're getting portal housings with strength and reliability that is unmatched.

Our housings are reinforced in all the right places
They're built with better oil flow and gearing forces in mind
There are no gimmicks and no vents because vents do more harm than good—we know because we tested them
The Strongest Portal Backing Plates You Can Get
We make our backing plates using an advanced steel alloy that's even stronger than chromoly. Believe us when we say this isn't your average metal! It's specialized for ultra-high force applications, so you'll never have to worry about them failing you. Add to that a thickness of 5/16" and you've got yourself some backing plates that just won't quit.

Advanced Gaskets and Seals
Whether you go with cast or billet, both housings use:

Advanced Thermo-Tork® gaskets with excellent oil resistance and a lower deterioration rate than Kevlar gaskets
A sealed input gear and double-lipped output seal
100% sealing coverage throughout so you can forget about oil leaks
Bearings That Rock
Top-quality bearings are at the heart of top-quality portals. That's why we use roller bearings to hold our idler gear—because we don't compromise when it comes to quality. Our output bearing is a double-angular contact bearing that can handle huge loads in any direction without wearing down prematurely. The strength and design of these bearings come together to give you a product that is built to last.

Universal Hubs and Slotted Rotors
Our precision-ground, stainless steel slotted rotors stay cool no matter how hard you ride. They're guaranteed to deliver the braking power you need, when you need it. We also include universal hubs with our portals—the 4/156, 4/137, 4/115, and 4/110 bolt patterns and lugs let you run just about any size ATV wheel you can find. And we invented the tapered output shaft that attaches to our hubs. It gives you a more secure lock to keep your hubs from wobbling or wearing over time.
Top-Rated Customer Service
Still need a little help getting exactly what you need? We've got a dedicated team just for portal support. Give us a call so we can get the perfect set of portals in your hands today.

4" Portal Gear Lift Includes:
(4) Assembled portal hub boxes complete with 9310 gears, seals, output shaft, Thermo-Tork® gaskets, and thrust bearings
(4) Universal hubs and precision-ground stainless steel slotted rotors with lugs
(4) Specialized steel alloy backing plates
(4) Steel caliper mounting plates
(2) Steel steering arms
Extended brake lines
All required hardware, including recessed castle nut socket
Polaris Scrambler Portal Gear Reduction Recommendations
Max Tire Size
Required Suspension Setup with 4" Portals
Recommended 4" Portal Gear Reduction
Up to 28"
Stock
15%
29.5"
2" Lift Kit
15%
30" to 38"
6" Lift Kit
15%
Gear reductions listed are general guidelines

to maintain factory top speed.

Installing a larger than recommended gear reduction will result in extra torque and lower top speed. Give us a call for more information.
FITMENT
Polaris Scrambler 1000 MD : 2015
Polaris Scrambler 1000 XP : 2014+
Polaris Scrambler 850 : 2013+
NOTE: Wheels need to have a center hole of at least 3.25" (82.55mm) or require a 1" wheel spacer.
INCLUDES
Item
DETAILS
TERMS OF WARRANTY
When filling gear box use only 80W-90 gear oil. Using grease will cause failure of gears and bearings.

Using grease will void your warranty.
SuperATV takes pride keeping your GDP Portal Gear Lift in working order. That's why we give you, the original purchaser, a lifetime of portal protection contingent on the following conditions. SuperATV warrants this product and its parts (excluding bearings, seals, & gaskets). Warranty is limited to material and / or workmanship defect at the time of shipment from the factory, and in no event shall seller have any liability for consequential damages of any kind resulting from a breach of this warranty. This warranty will be void on all products that show evidence of misapplication, improper installation, abuse, lack of proper maintenance, negligence, or alteration from original design. This warranty is in lieu of any other warranties, either expressed or implied, INCLUDING ANY IMPLIED WARRANTIES OF MERCHANTIBILTY OR FITNESS FOR ANY PARTICULAR PURPOSE.
How to make a warranty claim?
Before sending anything to SuperATV, please click below to fill out the appropriate form:
WARRANTY
RETURNS
Should you have any problems with your Gear Driven Performance product, please call SuperATV Customer Service at 855-743-3427. Please have a copy of your original purchase receipt available, with dealer name (if applicable), date of purchase, and invoice number when calling for technical help. Most often, installation, or break in procedural issues (See break in procedure information, located in the instructions) can be handled quickly by speaking with one of our customer service representatives.
If it is determined that repairs are required to your Gear Driven Performance portal, you MUST acquire an RGA number from our customer service team. RGA's and repair services are ONLY rendered by SuperATV. Any shipping costs incurred after 30 days (starting from the original purchase date) on any Portal returned for repair is the customer's responsibility. ALL Portals must be returned in the original box, with the original packaging, or a similarly well protected box. ALL portals must have the RGA number clearly written on the outside of the package. NO COD packages will be accepted, and no package will be accepted without an RGA number written on the outside of the box. Shipping information, including address and method, will be given to you by our customer service team and/or listed on our website when you create your RGA.
Upon arrival of your warranty parts we will have them inspected by our technicians to determine if the damage was a manufacturing defect or rider/installation error. The inspection usually takes place 1-2 days after the package arrives. SuperATV will then call you with the results of the inspection. Depending on the outcome of the inspection, you may be required to pay a replacement fee for the broken parts (prices may vary depending on parts that need to be replaced). We do our best to get your issues corrected as soon as possible so you can get back out on the trails. We also match shipping labels for our customers. If you ship the warranty parts to us with an overnight label, we will return the favor and send you the replacements parts on an overnight shipment at no charge.
If you have product that is outside of warranty coverage or it is determined that product shows evidence of misapplication, improper installation, abuse, lack of proper maintenance, negligence, or alteration from original design. Customer will be notified and we will repair for a $250 fee.
Replacement bearings, seals and gaskets can be found at www.SuperATV.com.
Thank you for your business!
.
DOWNLOADS
Instructions
QUESTIONS & ANSWERS
Have a Question?
Be the first to ask a question about this.
Ask a Question