S3 Power Sports Polaris RZR S3 Nation Grille
GREAT DEAL
Vendor: S3 Power Sports AUTHORIZED DEALER
Type: Grills
Part #: SPS-S3086
Inventory: Might be drop shipped by manufacturer
Inventory: Might be drop shipped by manufacturer
Inventory: Might be drop shipped by manufacturer
Inventory: Might be drop shipped by manufacturer
Inventory: Might be drop shipped by manufacturer
Inventory: Might be drop shipped by manufacturer
Inventory: Might be drop shipped by manufacturer
Inventory: Might be drop shipped by manufacturer
Inventory: Might be drop shipped by manufacturer
Inventory: Might be drop shipped by manufacturer
Inventory: Might be drop shipped by manufacturer
Inventory: Might be drop shipped by manufacturer
Inventory: Might be drop shipped by manufacturer
Inventory: Might be drop shipped by manufacturer
Inventory: Might be drop shipped by manufacturer
Inventory: Might be drop shipped by manufacturer
Inventory: Might be drop shipped by manufacturer
Inventory: Might be drop shipped by manufacturer
Inventory: Might be drop shipped by manufacturer
Inventory: Might be drop shipped by manufacturer
Inventory: Might be drop shipped by manufacturer
Inventory: Might be drop shipped by manufacturer
Inventory: Might be drop shipped by manufacturer
Inventory: Might be drop shipped by manufacturer
Inventory: Might be drop shipped by manufacturer
Inventory: Might be drop shipped by manufacturer
Inventory: Might be drop shipped by manufacturer
Inventory: Might be drop shipped by manufacturer
Inventory: Might be drop shipped by manufacturer
Inventory: Might be drop shipped by manufacturer
Inventory: Might be drop shipped by manufacturer
Inventory: Might be drop shipped by manufacturer
Inventory: Might be drop shipped by manufacturer
Inventory: Might be drop shipped by manufacturer
Inventory: Might be drop shipped by manufacturer
Inventory: Might be drop shipped by manufacturer
Inventory: Might be drop shipped by manufacturer
Inventory: Might be drop shipped by manufacturer
Inventory: Might be drop shipped by manufacturer
Inventory: Might be drop shipped by manufacturer
Inventory: Might be drop shipped by manufacturer
Inventory: Might be drop shipped by manufacturer
Inventory: Might be drop shipped by manufacturer
Inventory: Might be drop shipped by manufacturer
Inventory: Might be drop shipped by manufacturer
Inventory: Might be drop shipped by manufacturer
Inventory: Might be drop shipped by manufacturer
Inventory: Might be drop shipped by manufacturer
Inventory: Might be drop shipped by manufacturer
Inventory: Might be drop shipped by manufacturer
Incoming: May not ship until
Lead Time: Contact Us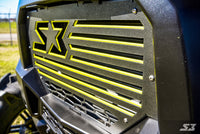 S3 Power Sports Polaris RZR S3 Nation Grille
- Havasu Red / Havasu Red
$ 143.00
Improves styling
Increases air flow
Protects radiator
S3 Nation logo
Dual 1/8" 16 ga steel plate construction for 3D multi-color effect
Factory replacement (no modification required for install)
Lifetime Structural Warranty
Made in the U.S.A.
Improve the performance and styling of your Polaris RZR with the S3 Power Sports S3 Nation Grille! Increase airflow while retaining strength and radiator protection. Add style with the S3 Nation Logo. Dual 1/8" 16 ga steel plate construction creates a 3D multi-color effect. Grille is factory replacement, so no modification required for installation.
FITMENT
Polaris
RZR XP 1000 (2014+)
RZR S 900 (2015+)
RZR S 1000 (2015+)
INCLUDES
Item
Front Grill Piece - QTY 1
Back Grill Piece - QTY 1
6/32" x 3/8" Bolts w/ Nylock Nuts- QTY 6
DETAILS
Shipping
Box Dimensions: 15x15x6
Weight: 2.0 lbs.
DOWNLOADS
Instructions
No Installation Guide Exists
QUESTIONS & ANSWERS
Have a Question?
Be the first to ask a question about this.
Ask a Question