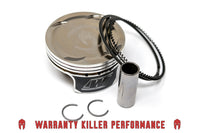 WKP Polaris Sportsman / Scrambler 850 Piston
- 87MM / 12:5:1
$ 249.99
Will I be able to run racing gas and pump gas with this piston setup on my 2015 Polaris Sportsman 850 Sp if I get it tune for it?

Hey Kendall, What fuel you cna run comes down to comp ratio as well as tuning. 

12-5-1 is what you will have to go with to run both fuels.