{"id":3741560833,"title":"Can Am Maverick Rear Differential","handle":"can-am-maverick-rear-differential","description":"\u003cul\u003e\n\u003cli\u003eGenuine OEM item\u003c\/li\u003e\n\u003cli\u003eDirect replacement - bolts in\u003c\/li\u003e\n\u003cli\u003eAvailable in stock or WKP HD series\u003c\/li\u003e\n\u003cli\u003eReduced Gear Wear\u003c\/li\u003e\n\u003cli\u003eLess Shear On Fluids \u003c\/li\u003e\n\u003cli\u003eLower Oil Temps \u003c\/li\u003e\n\u003cli\u003eLonger Oil Life \u003c\/li\u003e\n\u003cli\u003eReduced Friction \u003c\/li\u003e\n\u003cli\u003eMore Power To The Ground\u003c\/li\u003e\n\u003c\/ul\u003e\n\u003c!-- split --\u003e \u003cmeta charset=\"utf-8\"\u003e\n\u003cp\u003eThis is a factory Can-Am differential that is offered in two different setups. The stock setup is a brand new differential straight out of the box from Can-Am with no warranty from Can-Am or Warranty Killer Performance. The HD series setup is a brand new differential straight out of the box from Can-Am with WKP proprietary setup with refined pinion depth and lash. WKP has perfected this setup with years of R\u0026amp;D, and testing in race \/ high load applicatins and we back it with a 1-year warranty from Warranty Killer Performance. \u003c\/p\u003e\n[TABS]\n\u003ch5\u003eFITMENT\u003c\/h5\u003e\n\u003ch6\u003eCan-Am\u003c\/h6\u003e\n\u003cul\u003e\n\u003cli\u003eMaverick - All years \u0026amp; models\u003c\/li\u003e\n\u003c\/ul\u003e\n\u003ch5\u003eINCLUDES\u003c\/h5\u003e\n\u003ch6\u003eStock\u003c\/h6\u003e\n\u003col\u003e\n\u003cli\u003eStock Differential - QTY 1\u003c\/li\u003e\n\u003c\/ol\u003e\n\u003ch6\u003eHD Series\u003c\/h6\u003e\n\u003col\u003e\n\u003cli\u003eHD Series Differential - QTY 1\u003c\/li\u003e\n\u003c\/ol\u003e\n\u003ch5\u003eDETAILS\u003c\/h5\u003e\n\u003ch6\u003eShipping\u003c\/h6\u003e\n\u003cul\u003e\n\u003cli\u003e\n\u003cstrong\u003eBox Dimensions:\u003c\/strong\u003e 14x14x14\u003c\/li\u003e\n\u003cli\u003e\n\u003cstrong\u003eWeight:\u003c\/strong\u003e 30.0 lbs.\u003c\/li\u003e\n\u003cli\u003e\n\u003cstrong\u003eOEM Box Dimensions:\u003c\/strong\u003e 18x13x12\u003c\/li\u003e\n\u003cli\u003e\n\u003cstrong\u003eOEM Weight:\u003c\/strong\u003e 30.0 lbs.\u003c\/li\u003e\n\u003c\/ul\u003e\n\u003ch5\u003eDOWNLOADS\u003c\/h5\u003e\n\u003ch6\u003eInstructions\u003c\/h6\u003e\n\u003cp\u003e\u003ci class=\"fa fa-file-pdf-o\"\u003e\u003c\/i\u003eNo Installation Guide Exists\u003c\/p\u003e\n[\/TABS]","published_at":"2015-12-22T16:14:00-06:00","created_at":"2015-12-22T16:15:05-06:00","vendor":"Can-Am","type":"Drivetrain","tags":["Make_Can-Am","Model_Maverick","Parts_Differentials","Parts_Rear Differentials"],"price":88499,"price_min":88499,"price_max":122399,"available":true,"price_varies":true,"compare_at_price":null,"compare_at_price_min":0,"compare_at_price_max":0,"compare_at_price_varies":false,"variants":[{"id":10880997441,"title":"Stock","option1":"Stock","option2":null,"option3":null,"sku":"705502275","requires_shipping":true,"taxable":true,"featured_image":null,"available":true,"name":"Can Am Maverick Rear Differential - Stock","public_title":"Stock","options":["Stock"],"price":88499,"weight":13608,"compare_at_price":null,"inventory_quantity":0,"inventory_management":"shopify","inventory_policy":"continue","barcode":"705501912, 705501958"},{"id":13729140834369,"title":"HD Series","option1":"HD Series","option2":null,"option3":null,"sku":"WKP-HD-705502275","requires_shipping":true,"taxable":true,"featured_image":null,"available":true,"name":"Can Am Maverick Rear Differential - HD Series","public_title":"HD Series","options":["HD Series"],"price":122399,"weight":13608,"compare_at_price":null,"inventory_quantity":0,"inventory_management":"shopify","inventory_policy":"continue","barcode":"705501912, 705501958"}],"images":["\/\/cdn.shopify.com\/s\/files\/1\/0835\/6831\/products\/Can_Am_Maverick_Rear_Diff_Whole_705501912.jpg?v=1478780037"],"featured_image":"\/\/cdn.shopify.com\/s\/files\/1\/0835\/6831\/products\/Can_Am_Maverick_Rear_Diff_Whole_705501912.jpg?v=1478780037","options":["Setup Type"],"media":[{"alt":"Can Am Maverick Rear Diff Whole - Warranty Killer Performance","id":40338980929,"position":1,"preview_image":{"aspect_ratio":1.19,"height":400,"width":476,"src":"https:\/\/cdn.shopify.com\/s\/files\/1\/0835\/6831\/products\/Can_Am_Maverick_Rear_Diff_Whole_705501912.jpg?v=1568715530"},"aspect_ratio":1.19,"height":400,"media_type":"image","src":"https:\/\/cdn.shopify.com\/s\/files\/1\/0835\/6831\/products\/Can_Am_Maverick_Rear_Diff_Whole_705501912.jpg?v=1568715530","width":476}],"content":"\u003cul\u003e\n\u003cli\u003eGenuine OEM item\u003c\/li\u003e\n\u003cli\u003eDirect replacement - bolts in\u003c\/li\u003e\n\u003cli\u003eAvailable in stock or WKP HD series\u003c\/li\u003e\n\u003cli\u003eReduced Gear Wear\u003c\/li\u003e\n\u003cli\u003eLess Shear On Fluids \u003c\/li\u003e\n\u003cli\u003eLower Oil Temps \u003c\/li\u003e\n\u003cli\u003eLonger Oil Life \u003c\/li\u003e\n\u003cli\u003eReduced Friction \u003c\/li\u003e\n\u003cli\u003eMore Power To The Ground\u003c\/li\u003e\n\u003c\/ul\u003e\n\u003c!-- split --\u003e \u003cmeta charset=\"utf-8\"\u003e\n\u003cp\u003eThis is a factory Can-Am differential that is offered in two different setups. The stock setup is a brand new differential straight out of the box from Can-Am with no warranty from Can-Am or Warranty Killer Performance. The HD series setup is a brand new differential straight out of the box from Can-Am with WKP proprietary setup with refined pinion depth and lash. WKP has perfected this setup with years of R\u0026amp;D, and testing in race \/ high load applicatins and we back it with a 1-year warranty from Warranty Killer Performance. \u003c\/p\u003e\n[TABS]\n\u003ch5\u003eFITMENT\u003c\/h5\u003e\n\u003ch6\u003eCan-Am\u003c\/h6\u003e\n\u003cul\u003e\n\u003cli\u003eMaverick - All years \u0026amp; models\u003c\/li\u003e\n\u003c\/ul\u003e\n\u003ch5\u003eINCLUDES\u003c\/h5\u003e\n\u003ch6\u003eStock\u003c\/h6\u003e\n\u003col\u003e\n\u003cli\u003eStock Differential - QTY 1\u003c\/li\u003e\n\u003c\/ol\u003e\n\u003ch6\u003eHD Series\u003c\/h6\u003e\n\u003col\u003e\n\u003cli\u003eHD Series Differential - QTY 1\u003c\/li\u003e\n\u003c\/ol\u003e\n\u003ch5\u003eDETAILS\u003c\/h5\u003e\n\u003ch6\u003eShipping\u003c\/h6\u003e\n\u003cul\u003e\n\u003cli\u003e\n\u003cstrong\u003eBox Dimensions:\u003c\/strong\u003e 14x14x14\u003c\/li\u003e\n\u003cli\u003e\n\u003cstrong\u003eWeight:\u003c\/strong\u003e 30.0 lbs.\u003c\/li\u003e\n\u003cli\u003e\n\u003cstrong\u003eOEM Box Dimensions:\u003c\/strong\u003e 18x13x12\u003c\/li\u003e\n\u003cli\u003e\n\u003cstrong\u003eOEM Weight:\u003c\/strong\u003e 30.0 lbs.\u003c\/li\u003e\n\u003c\/ul\u003e\n\u003ch5\u003eDOWNLOADS\u003c\/h5\u003e\n\u003ch6\u003eInstructions\u003c\/h6\u003e\n\u003cp\u003e\u003ci class=\"fa fa-file-pdf-o\"\u003e\u003c\/i\u003eNo Installation Guide Exists\u003c\/p\u003e\n[\/TABS]"}
Can Am Maverick Rear Differential
Can-Am
Maverick - All years & models
Stock
Stock Differential - QTY 1
HD Series
HD Series Differential - QTY 1
Shipping
Box Dimensions: 14x14x14
Weight: 30.0 lbs.
OEM Box Dimensions: 18x13x12
OEM Weight: 30.0 lbs.
Instructions
No Installation Guide Exists
Customer Reviews
11/29/2018
Travis T.
United States
EXCELLENT
My experience ordering and using this differential was and is absolutely awesome! Not only did WKP call me to double confirm the shipping address to avoid any delays, they sold me this brand new diff with HD modifications and a warranty and it's KILLER! My maverick moves like it never has before with the HD trans and diff combo. I am a happy customer that will definitely return!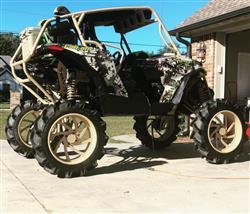 11/30/2018
Warranty Killer Performance
will this or a similar item work on a 2020 Maverick Turbo x3 RC RR.

The X3 is a trans axel setup. The transmision and rear diffirential are built into one housing. If you need the assembly please conact us here. 
https://www.warrantykillerperformance.com/pages/tech

Can you rebuild my front and rear diff's if I send them to you ? 2014 Can Am Maverick Max 1000r. And approx cost ?

Hey Daniel, yes sir we can. The rebuild kits are on our webiste. The labor would be $270 per differential estimated.

My 2016 xds turbo keeps shitting diffs and ive had a guts full of it i race rall with it the new diff from canam has only lasted 190km and its got metal in the oil so now this one is going to crap itself im in Australia and its hard to get good advice om canam gear

Hey Paul, Please email us at Sales@warrantykillerperformance.com.
We cand get some more info and help you out sir!

I'm building a 2015 renegade and want to put a maverick diff. Will this hd diff work and is it a complete diff or just housing.

Yes this is the complete differential. Yes it will work with modfications to the frame and driveshaft. I would recommend the Billet XMR Differential Swap Kit as its bolt in and holds up just as good if not better.

https://www.warrantykillerperformance.com/products/wkp-xmr-differential-swap-complete-kit

Do you need the core? Looking at HD rear diff for 13 Maverick What's your price thanks

Hey Daniel, We do not require a core.