Power Vision 3 for Can Am Maverick X3
GREAT DEAL
$ 469.99

Regular price

$ 522.21
DISCLAIMER! Not legal for sale or use in California
Vendor: DynoJet Research MASTER DEALER
Type: Tune
Part #: PV3-25-01
Related: 840094314870
Inventory: Might be drop shipped by manufacturer
Incoming: May not ship until
Lead Time: Contact Us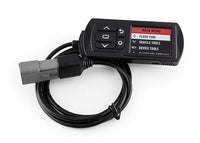 Power Vision 3 for Can Am Maverick X3
$ 469.99
Easy-to-read high-contrast screen gives you full control over how you tune your ride
Ability to flash your UTV from the trail, whenever you want
Quickly build your own tune or choose from a wide variety of trusted Dynojet-engineered tunes
Comes with Power Core software that connects dyno runs with fuel tuners to unlock your ride's potential
Can be mounted and used as a live diagnostic panel as you ride, with customizable alarms
Weather resistant and shock resistant
One-year warranty and unlimited tech support
Proudly made in the USA
Tuning devices any unit with head work, camshafts or power adder require tuning device, wideband, remote tuning or dyno tuning.
We've raised the bar when it comes to what you should expect from a fuel tuner. Power Vision's easy-to-read, no-nonsense display puts performance at your fingertips, empowering you to choose from our vast library of pre-tested tunes or to build one yourself. The Power Vision fuel tuner updates the tables directly within the ECU to optimize the air/fuel ratio, keeping you in sync and in control. When you're back in the garage, your performance data can then be clearly seen using our Power Core software to help you improve your ride. The Power Vision device holds multiple tunes at once and allows you to optimize your ride for power, speed or fuel-efficiency. After you've flashed your ECU, you can either unplug the device or head out with Power Vision attached as an extra instrument panel. Power Vision easily connects through the OEM-style connectors, so installation won't keep you away for long.
FITMENT
Can-Am
If your vehicle is NOT LISTED, this will work on any ITC Intelligent Throttle Control, ETC Electronic Throttle Control and DBW Drive BY Wire throttle body units. How to verify your unit is supported: the handle bars at the thumb throttle module will state ITC.
INCLUDES
Item
Power Vision 3 - QTY 1
DETAILS
Shipping
USPS Package: TBD
Box Dimensions: TBD
Weight: 5.0 lbs.
DOWNLOADS
Instructions
Power Core Software Suite (WinPEP 8 Data Center & Dyno Control, C3 Tuning Software, POD-300 Device Manager)
Installation Guide - Power Vision 3 for Can-Am X3
Installation Guide for Power Vision 3 with WKP "Spartan Series" ECU Calibration
Will this tuner void my extended warranty? And can I download free tunes for my stock 21 can-am mavaerick x3 rs turbo r?

Hey Scott, What color is the ECU behind the driver seat?