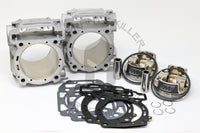 WKP Can Am 1000 Big Bore Kit
- 12-5-1 (Octane Rating 93) / 976
$ 899.99
How much hp does this kit add to a 2020 maverick sport max dps

Hey Chris, That is a dynamic question that can only be anwsered with one of these forms.
Big bore kit only 5rwhp per 100cc gain. 
Stock tuned 10 rwhp, big bore and tuned 15 rwhp average.

How big can you bore out an 850 can am renegade?

Hey Porter, all our kits listed under their supported units are as arge as you can go. 
Here is the link for the 850. This is a 95mm kit stokc is 94mm
We do have a new 98mm kit coming soon but they are pre order only. 
Email us if interested.