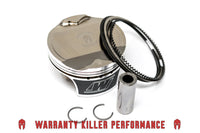 WKP Can Am 1000 R Piston
- 91MM / 12:5:1 / Front
$ 249.99
what CC would the larger pistons be 93mm and 98mm? Also would you be able to provide a map for a Power commander PCFC with the purchase or point me in the right direction if I was to buy? We have no local dyno guys but I do have a SAFR

93, 96, and 98mm are currently avaliable. Yes sir we can setup a PC5 per engine combination.

Can I run these pistons with mrrpm race cams?

We would have know way of knowng that unless you clay the enigne or he will give you his piston deck height as well as valve pocket depth. We have had engione buiders run those cams wiht our pistons but we do not know what they did or didnt do to clear those cams. We can custom cut the pockets for you with info or test fitment.