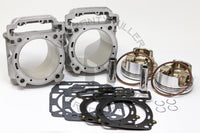 WKP Can Am 850 Big Bore Kit
- 12-5-1 (Octane Rating 93) / 872 / Yes - I will send in my cylinders after ordering (-$500)
$ 1,299.99
Will this out perform the original 850 set up

Yes it will as you are getting 872 with our kit vs stock 800

Is this kit as reliable as mr.rpm's kit..do they offer better cooling than stock..is there some feedback from someone who has installed the 872 kit

Hey Randy, WKP kits are the highest end and best quality big bore kits on the market hands down. Please review the product page write up. No one in the industry is offering cylinders or pistons wiht all the features we offer in our kits. All our kits are tested in house prior to retail release. Cooling is the same as stock as the water jackets are not changed. The OEM system has the ability to cool much more power than this kit as our turbo engines 300+hp on the same cooling system cool just fine. That is a common misconception and if thats an issue it due to other issues not the size of the kit if the OEM water jackets have not been modfied. Usually tuning are poor quality kit.