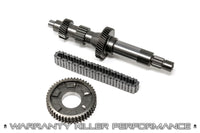 WKP Polaris General HD Reverse Chain
- 2016-2021 General
$ 899.99
What is the warranty on the reverse chain

Hey Lewis, lifetime.

Will this fit a 2021 ranger crew none xp?

Hello, we do have a kit for that particular unit. It is $900 (that price includes an extra gear that is required). This kit is a dual-chain setup, not the double wide single chain. If you are interested in placing an order for one, shoot us an email at sales@warrantykillerperformance.com with your name, shipping address, and a good contact phone number and we can email a cart to you for you to complete checkout.