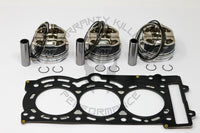 WKP Can Am Maverick X3 Big Bore Kit
- 9-5-1 / +1mm / 75mm / 922
$ 1,299.99
Will your 949 kit fit directly into our standard block, or would we have to have the block bored out? As i notice in the description that includes cylinder pistons and gaskets!

Hey Ian, Anything like that we would have for sure nottated in red. This is a bolt on and tune kit.

Hi Is the big bore kit available. Can i run 35 to 40 psi with it on race gas or ethanol e98? With no problem?

yes sir it is, and yes you can please email or shoot us a facebook pm for custom builds or applications.