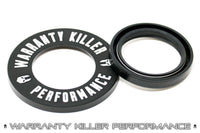 WKP Polaris 900/1000 Crank Seal Upgrade Kit
- Kit (Seal + Aluminum Ring) / Include an extra seal
$ 249.99
Does it work on the RZR Turbo

It sure does!

Fits a 2015 RZR 1000?

Absolutely, it fits all Polaris 900 & 1000's!

Can the aluminum ring/shield be installed over the factory seal as a preventative measure? How is the ring held in place?

Yes sir we encourage this as preventative maintence, The ring is interfernce fit to the case tightly we also mark the billet cover as to where to apply silicone of choice or rtv a very thin line for those choosing to snorkel there sxs.

Will this product work with out the aluminum guard?

We would NOT recommend buying just the seal. You need the aluminum ring in order to protect the seal from dirt, dust and debris from belt failure.
The seal will not work wihtout the aluminum cover.

Do you have to split the factory cases?

No, this allows for installation without splitting the factory cases.

how do you pull the old seal out without splitting the cases?

It requires a flat head screw driver and patience (as this can take up to 2 hours). You will need to be very cautious to not damage any components (i.e. cases, crank, etc.) Work the flat head screw driver on the seal to collapse itself on the crank but not damage the crank itself. Overall it takes time but save you money in the long run.

Can I use a seal puller with this?

Yes you can. We have one listed on our website as "Seal Puller".

Does this seal work on clutch side of crank and flywheel side of the crank

This seal only goes by the clutch/belt box side.

Do yaw have the crank seal kit for the 2022 polaris 570 sportsman

We do not. We could get you an OEM replacement though!

What is the extra seal for

An extra seal is just that, extra - in case the original seal is faulty or needs replacing.

Does this seal work on a 19 polaris ranger 1000xp northstar for the crankshaft pulley side of the HVAC system on a northstar. OEM part #3610176

Good afternoon, yes this seal replaces OEM part# 3610176 and fits the 2019 Ranger 1000 XP North Star.

Does your seal fit a 2020 polaris ranger 1000XP?

Good morning, yes our seal will fit your unit

Which direction do you install the seal. There's a flat side and other side has a groove in it.

Hello, the flat side of the seal should be facing out (where you can see it) when installed.

Will this work on a 2019 polaris sportsman 1000?

Hello, sorry but this will not work on the 2019 Polaris Sportsman 1000

Do you all use military discounts. And will it fit a 2011 900rzr

Hello, you will need to apply for a Public Safety account here.

This seal will fit your unit.

Will this work on a 2014 ranger 900?

Yes, it will work on all Polaris 900 and 1000 models.

When will it be in stock

Dylan,

We don't have a firm date yet but anticipate another week or two. If you would, sign up for email notifications so that you know when we do get them in stock. Thanks!

What do you have for a 2017 rzr turbo XP's for crankshaft seal?

Roger, our WKP Polaris 900/1000 Crank Seal Upgrade Kit replaces the Polaris OEM oil seal, part #3610176, 3610284 (Seal-Flange, Lube Viton) on a 2017 Polaris RZR XP Turbo.

Does this fit a 2020 Rzr Turbo?

Sam, yes this does. We have a fitment tab available on all of our products for you to view!

i have a 2014 polaris rzr800 that threw a belt and ruined the crank seal can i install your kit and not remove the old seal or do you leave the old seal in

Dave, the old seal would have to be removed to install a new seal. We have a seal puller available for purchase to easily remove that old seal. Currently we are sold out of the alumnium proctector rings but our seal does not require the ring to work. You could install our seal and be ready to ride!

Do you need to install both seal and aluminum ring or can you just replace stock seal with your seal only? For a RZR xp4 turbo

Mauricio, you can install the seal only and it will still function properly. The ring is for protection.

Will this fit 2017 570 ranger ?

No sir, it does not.

Do I need to buy the aluminum ring in order for this seal to work properly?

No sir, the ring serves as extra protection only and it is not needed for the seal to properly work. You can enter your email address in the notification box and be alerted when the rings are back in stock so you can order one at a later time.

I ordered this kit and it only came with the seal

Yes sir, we are currently sold out of our rings right now. When you checked out, the drop down option of "seal only" was selected. We should have the rings back in stock within a few weeks!

I need to replace the seal on our 900, what all do I need?

Russell, you would need this seal and a seal puller (WKP-SP) to get the job done!

This is the only seal I need for my Polaris 900... my crankshaft seal is leaking and I don't want a flanged seal... so will this replace it

Correct, this seal would be the direct replacement to your crankshaft seal.

Put the seal in. Started bike to inspect for oil leaks and seal just pops out seems like a lot of oil pressure behind seal

Hi, ususally the main cause of too much pressure is the oil relief ports not being cleaned out thuroughly. Please check the instruction manual and use the method mentioned for cleaning the ports to relieve any pressure behind the seal.

I have a 2018 Polaris ranger XP 1000 will this kit work on it ?

Yes, this will fit your unit.

Will this fit my 2012 rzr 900 xp

Yes, this will fit your unit.

Will this seal work for both primary clutch seal and secondary clutch seal ? 1000 Polaris scrambler

Sorry but this will not fit your machine. The part numbers for the two seals you need are 3610220 and 3234892, but we do not stock them at this time.

How do I get original seal out

Under the product page, look for the tab labeled "DOWNLOADS" and under there you will see a .pdf installation guide which also goes over how to remove the old seal. We reccommend using a seal puller as the hook does a good job at gripping the seal and also gives you the leverage you need to pop it out. 

The seal puller can be found here: https://www.warrantykillerperformance.com/products/seal-puller

I have a 2018 Polaris General and my crankshaft seal is leaking. It says in your description your kit fits all model Generals. Mine takes oem #3610284 will this work for me? Thanks

Hi, your part number does show that it will work with our crank seal kit. Just type that part number in our search bar and it should bring you to the correct kit.

Can I replace this seal without taking the motor apart

Yes sir you can. We designed this seal to eliminate that issue of splitting the case.

I have a 2019 rzr xp 1000. I'm considering buying your seal kit. Was wondering if the 2019 had the flanged seal in it?

Yes, our seal kit will work with your machine. Even the new RZRs have the same flanged seal.

Do you have install instructions?

Hello, there is an instillation guide found on the product page under the "Downloads" tab.

If I ship this item one day business through USPS and order right now will I have it tomorrow?

USPS does not guarantee one business day delivery like UPS Next Day Air does. USPS only offers "Priority Mail Express" which is 1-2 days depending upon your zip code. See more information here by viewing our USPS map.

Will this fit a 2014 Ranger 900 XP?

Yes

Keep blowing seals at 1500 rpms ?

Hey Hank, The only way you can build pressure and push the seal out is by hydralics from the engine oil. This means that the crank case oil relief ports behind the seal and beside the main bearings are clogged with engine case sealant still. The instructions will tell you to clean theses ports with torch tip cleaners. The oil pressure that bleeds off the main bearing will be trapped behind the seal if those ports are not clean all the way through and operating engine oil pressure will push the seal out as your experinceing.

I ordered the crank seal for me 2014 XP RZR and it didn't fit. I have called twice and emailed twice and have not heard back. The seal is too tight. Can someone call me back???

James, we have sold hundreds of these kits without any issue. Can you let us know your exact year, make and model? Also, if you have photos of the seal installed that would help us with determining any issue.

You claim this kit fits a turbo model, however the aluminum inner primary cover will not fit over your seal cover. What modifications are needed for this to work?

There are no modifications needed. The cover is machined you fit all year, make, models as specified on the website. Please remove the cover measure ID of clutch cover and OD of cover. Please email us photos thanks!

WILL IT REPLACE PART # oem 3610284

It will not, it will only replace the OEM Polaris part number: 3610176.

Any ideas when it will be available

They are in stock now sir.

I have a 2017 Polaris ranger 1000 will this seal kit fit my machine

yes it will.

it dave here at Redline. do you know when this part will be available. my customer wants am eta for two kits. please! WKP Polaris 900/1000 Crank Seal Upgrade Kit

Dave, this product is in high demand and our supplier is pumping as many out as they can. We currently do not have an ETA but would expect only another week or two.

Do you have a time line on when the WKP-CSK part will be avalible. Thanks

2 weeks, enter your email to be notified.

Does this fit over both sides the primary and secondary ? I have a 2018 xp turbo and my secondary is leaking from belt carnage thanks in advance

Hey Damen, We have a kit for the crankshaft behind the primary clutch and a kit for the transimisison input shaft the secondary clutch bolts on.

I just ordered and received the aluminum ring but it says 'non turbo' on the package. There was no option to specify my machine as a turbo 1000 when ordering. Is it the right part for my turbo??

We apologize for the inconvenience as all the new kits should include the aluminum ring protector that fits turbos and non-turbos. There could have been old stock that was picked unintentionally. Please send us an email to: sales@warrantykillerperformance.com with your order number so we can send out another one as quickly as possible.

Does this fit on a 2016 Polaris rzr 1000 turbo?

It sure does!

How do get the old one out to put yours in

Take a look at our Installation Guide and Customer Submitted Photos. It helps to have a seal puller. If you do not have one consider purchasing a Seal Puller from us and that will help remove the old seal.

Will this seal fit/replace stock seal on a 2015 rzr 900 s?

Absolutely, it fits all Polaris 900/1000 models. :)

Hi there, I have a 2012 Polaris rzr 900xp. Blew out the crank seal on it by blowing a belt. I saw your kit on here and looks like it doesn't get better then that with the protection cover for it. I'm just wondering when I take apart my bottom end to replace my crank seal is this 2 piece kit everything I would need? Are you able to include the seal for the bottom end when I split mine for an added price? Thanks for your help

Hello! This seal and aluminum flange is the only thing you need to replace the crankshaft seal. Additional seals are not included but may be found on our website for additional cost. :)

I have a 2017 RZR Turbo. Do you have a crank seal kit that fits?

You're in luck, this kit now fits the turbo models as well!

Need some clarification on fitment, it says all models but only 900 1000 are these xps,looking for 13xp900

This product will fit all Polaris 900 & 1000 UTV models, even the Turbos. :)

Do you have the 1000 turbo rzr kit ready or will I need to modify the ring still?

Those are still in production. You will have to modify this aluminum ring if purchased currently as of 11/27/18.

What direction does the seal get installed one side of seal flat and covered with rubber. The other side is open and a spring is visible. What side toward the atv flat side or open side. Ashworth

The side of the rubber seal that is covered will be facing out toward the case.

I'm scratching my head ok I took old seal out put new seal in I got from u guys. Put the alum ring on and it started leaking right away. This is bill from 1434 meadowlark lane Mora MN 55051. Do u guys help did I get bad one. Just bummed. Cause I got 17 polaris general 1000 should be same as rzr and ranger.

Hey Bill, We will absolutley help you out. Since this seal is leaking, send us photos of the face of the seal and video of where its leaking. Then we need to remove the seal and send us a photo of the cases and behind the seal so we can see whats going on. Most likely the seal is not the issue if its leaking around the case then the seal had to be damaged upon install or cases are damaged. If the seal is leaking inbetween the crank and seal then your oil relif ports in the engine case are clogged still causing over pressure and no where for the oil to relieve back innto the end case after bleeding off the main bearing. Either way we can get you fixed up.

What is the modification needed to install thid on a turbo model?

We are currently developing an aluminum ring to fit the Turbo models. The aluminum flange itself must be shaved down a bit to work with the Turbo models until our Turbo model is released.

I believe my seal OEM seal has already failed, my 16 xp4 turbo just quit moving and oil filled the belt housing and was coming out the vent boot. If it has already failed would I need to take it apart to install the upgrade kit and remove the old one?

No, there is no need to take it apart. It will require lots of time to remove the old seal but well worth not splitting the cases.

This seal fit on a 2019 Rzr turbo s

Yes, this will.