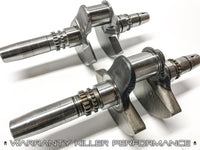 Can Am 1000 Super Crankshaft
$ 882.99
Hi. I have 2017 Maverick turbo, 131 hp, this crank it fit my model? If yes, the crank are Balancing?

Hey Lonut, Here is the servcie you need sir.

https://www.warrantykillerperformance.com/collections/vehicles/products/can-am-maverick-x3-super-crankshaft?_pos=3&_sid=750f1d6a1&_ss=r

Hello I have a 2015 maverick XDS 1000 turbo the timing chain gear part of the crankshaft teeth stripped off jump time bent valves only has about 100 hours on it do you have any idea what to fix for this is or what caused it and do you have a crank please contact me and we'll go from there

We do have crankshafts in stock ready to ship. We have only seen this a few times and beleiev it is due to a bad batch of heat treating.

Hey, I have a few questions for you on this. I have a Renegade with a 1020 kit in it, that's been rebuilt top to bottom by the previous owner (don't know what crankshaft/rod parts he used). The engine just started making a nasty knocking noise so I'm assuming crank/rod bearings. It's hard to imagine the bearings going out without galling the bearing journals on the crank too so I am making the assumption I'll need machining done to the crank too. Teardown in the next few weeks/months will be the final tell of that but I am planning for worst case scenario. So with that, since I'm tearing down to that point anyway and likely needing crank shaft servicing I am maybe interested in your super crankshaft. 1. Would I be able to send in my crank to get machined to the super crank, and new main and rod bearings put on? Or would I need to purchase your crankshaft kit+the super crank. 2. Mine might actually already have the super crankshaft in it. It seems extra responsive in the low end compared to other bikes and pulls very hard down low as well as up top. Makes me think there's some lightening done to the crankshaft already. If this is the case, could I just send the crankshaft in to get serviced for rod and crank bearings? I'm trying to check out what options I have and get an idea before I get time to rip into this thing. Thank you, Jordan

Hey Jordan, Sorry to hear that sir. 
Yes if your crank makes machining we can convert to super crank setup. 
I will email you as this is a lenghty work order it seems.

what is the power increase on a can am 1000 outlander?

We do not have a power increase number as there are too many variables. Weight is the biggets power robber in an engine as far as accleration. This is a noticable gain, we do not reccomend this with out other engine mods as there are mods you can do that are better gain for dollar if you do not already ahve the engine torn down. Please email us sales@warrantykillerperformance.com your contact info if you would like a tech to go over an engine buiuld with you. Thanks!

Does this service require working parts? My front rod is seized and the rear bearing is out...also what kind of hp gains are you seeing? Thanks

Hey Jason, You can send your crank in and we can see if we can save it. You will not see any hp gains as far peak really. This is more of an upgrade for how quick the power comes in. How responsive the engine is. With this crank as light as it is the engine spins up and comes into the power very quick, no comaprision to stock.